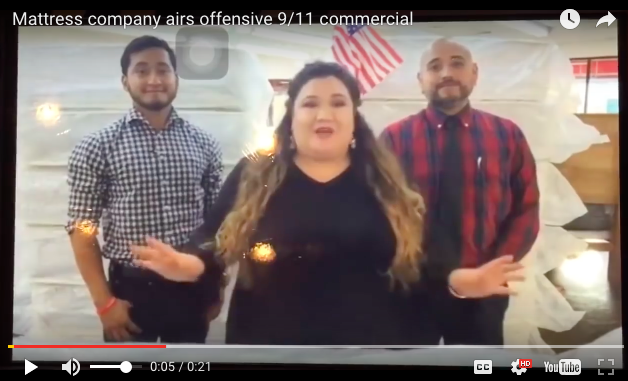 Almost exactly fifteen years ago, just under 3,000 American civilians and emergency responders perished in the deadliest terrorist attack on American soil in our history. There are many appropriate ways to observe the anniversary of this horrific event, however, a mattress sale probably is not one of them.
And if having some sort of commercial sale isn't bad enough, a company especially should not create and advertise an offensive video commercial that depicts gleeful salespeople boasting about how you can get any mattress for the price of a "twin," right in front of two "twin towers" of mattresses.
Unfortunately, Miracle Mattress — a San Antonio mattress store — did.
https://www.youtube.com/watch?v=2ZmM-2gj5Gc
The ad is not only taking advantage of this painful day, it is turning the tragedy into some sort of joke — with happy-go-lucky salespeople crashing into the "twin towers" at the end of the ad.
Completely unacceptable.
Not long after the video went viral, the store owner responded with an official comment:
A day later, the owner responded with yet another statement, saying that Miracle Mattress would be temporarily closing its doors to atone for the horrific ad.
https://twitter.com/barrientosjamie/status/774329522413907968
The store manager — who was the woman in the ad — also told local news that the ad was "stupid" and that she sincerely regretted being a part of it.
We are not hate, we are love, we are somebody that stands out, we are miracle mattress, we make miracles happen. And for our lives to be in danger that is not what we ever wanted… It was stupid, it was a stupid idea that we sent out and we apologize for our stupidity and we really hope that you forgive us for what we have done.
Understandably, these apologies have done little to heal those who were impacted by the events of September 11th, 2001.
https://twitter.com/DannyDeraney/status/774288058032062464
.@MiracleMattress WTF is wrong with you?! As a 9/11 survivor, I would not even wish my experience on you all.

— Lisa V. (@volpela) September 9, 2016
When I first saw this I thought it HAD to be some sort of fake. Honestly, I'm still in horrified disbelief.