David Duke, former KKK Grand Wizard, has announced his intentions to seek a Senate seat in his state of Louisiana. His main platform agenda is to fight for the rights of European-Americans, who he feels have been "oppressed."
In response to his annoucement, Louisiana-based KALB News Channel 5 ran a Twitter poll asking their followers if they would vote for Duke. The results are shocking: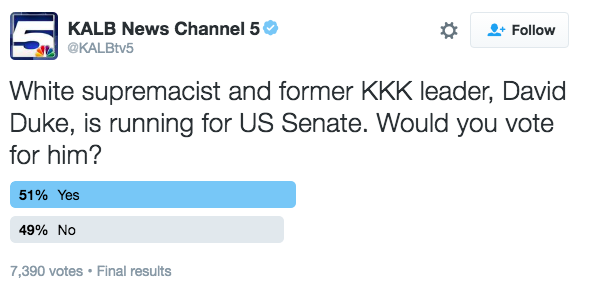 A majority of respondents — of which there were a total of 7390 — said that they would vote for former KKK Leader David Duke.
Here's what some of them had to say:
1.
2.
3.

4.
5.
6.
7.
8.
9.
10.
11.

And as shocking as some of these responses seem, I tried to pick some of the tamer ones (So it's not actually all the people, sorry). Feel free to read through the entire Twitter thread, if you can stomach it.
Many people defended Duke in the thread, with one person going so far as to threaten anyone who spoke out against Duke:
Many of his supporters have said that Duke isn't a white supremacist, despite some of his overtly racist comments. He has also questioned the historical validity of the Holocaust, basically making him an all-around asshole. Duke did leave the KKK because of his opposition to violence, but his statements today — while perhaps more polished — still retain overt racism.
This is important. It is important because some of our leaders — who are perhaps a few notches more tolerant than Duke — are trying to convince us that racism is no longer a problem in our nation. They are trying to convince us that everything is peachy-perfect and that there is no need to shine additional light on uncomfortable topics like police brutality, racial privilege, and race-based inequities in our justice system. But of course, our nation still faces racism, and we should never be lulled away from the fight for a truly more perfect union.