The 2016 election in the United States has popularized the leftist argument that a college education should be open to ALL citizens, regardless of income. Bernie Sanders, among other liberal politicians, have come forward to propose that college tuition be abolished, and that post-secondary schooling be a free right to all citizens.
In response to this policy proposal, many people have been calling young citizens "lazy" or "entitled." Many have come forward to popularize the argument that if you want free education, you should join the military, as they (typically) offer free college after a certain number of years of service.
However, a solider himself has something to say to that right-wing applause line — and it's intense: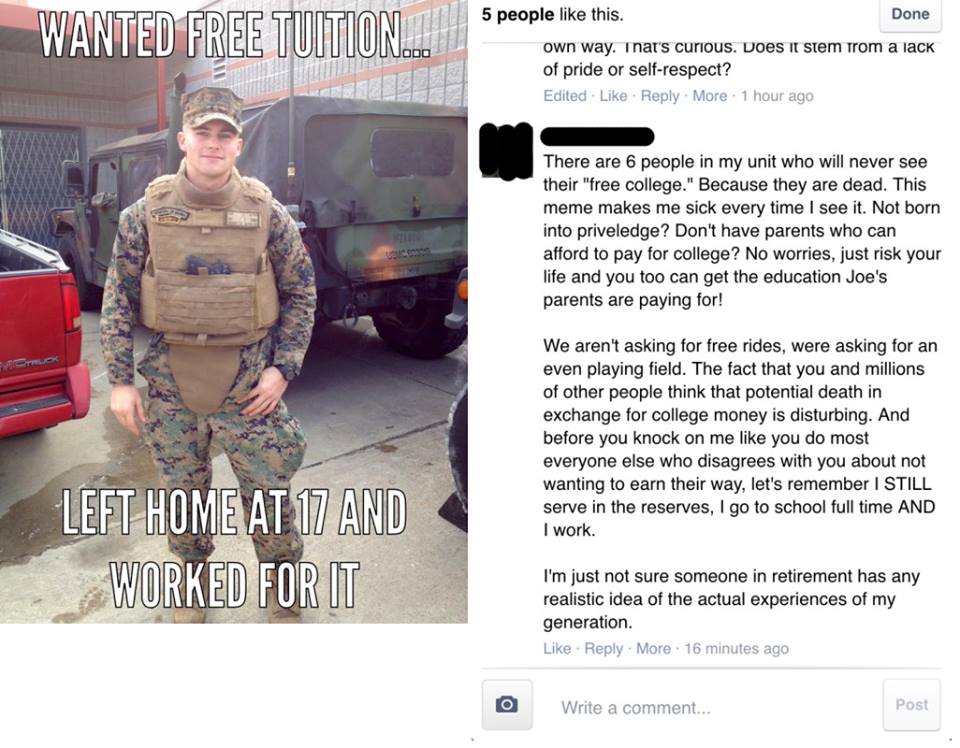 The text from the post, if you need it:
There are 6 people in my unit who will never see their 'free college.' Because they are dead. This meme makes me sick every time I see it. Not born into priveledge? Do't have parents who can afford to pay for college? No worries, just risk your life and you too can get the education Joe's parents are paying for!

We aren't asking for free rides, were asking for an even playing field. The fact that you and millions of other people think that potential death in exchange for college money is disturbing. And before you knock on me like you do most everyone else who disagrees with you about not wanting to earn their way, let's remember I STILL serve in the reserves, I got to school full time AND I work.

I'm just not sure someone in retirement has any realistic idea of the actual experiences of my generation.
Wow, just wow!
The savage rebuttal to the viral right-wing meme has been met with a startlingly positive response among civilians and veterans alike:


A very interesting perspective!