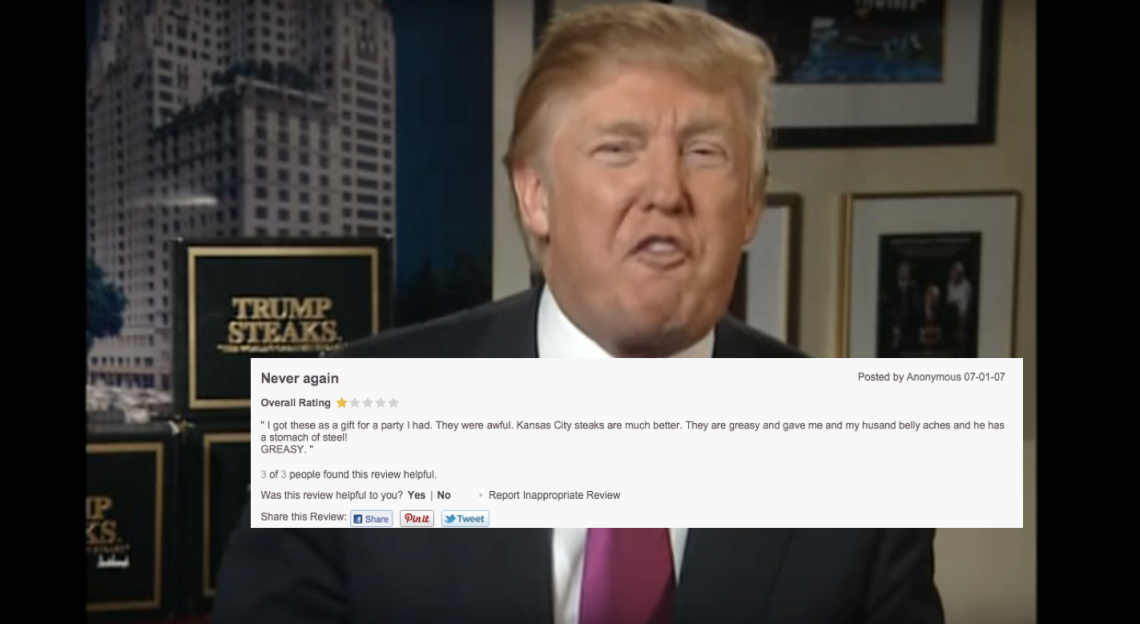 A few nights ago in his victory speech, instead of doing the typical "thank you, thank you," Donald Trump started plugging some of his name-brand products. He went down the list, talking about his awesome bottled water, really great wine, and his DELICIOUS steaks by The Sharper Image.
First off, a lot of people were confused. Sharper Image is typically known to be an appliance manufacturer, not steakhouse.
I'm trying to imagine myself walking out of a Sharper Image with a bad drone toy, a neck massager and a raw hunk of steak. #TrumpSteaks

— Goddamn Glenn (@GoddamnGlenn) March 10, 2016
I BUY ALL OF MY STEAK AT THE SHARPER IMAGE

— ALL CAPS BRO (@ALLCAPSBRO) March 9, 2016
Despite how unbelievable it is, Trump did indeed sell his "World's Greatest Steaks" through Sharper Image:
https://www.youtube.com/watch?v=LyONt_ZH_aw
But as it turns out "The World's Greatest Steaks"… weren't.
Here's what people had to say when reviewing Trump's steaks and (other meat products) on QVC:
1.

2.

3.

4.

5.
6.
Are we really about to trust a man who sold steaks out of an appliance store to run our country?
I guess so…