What do you do when you need to get away? Spa? Cabin in the woods? Going out with friends? Climbing a seven-story high tree and chilling there for a few days?
Well, whether you'd do it or not, its what a man in Downtown Seattle has done, and he doesn't seem to be going anywhere.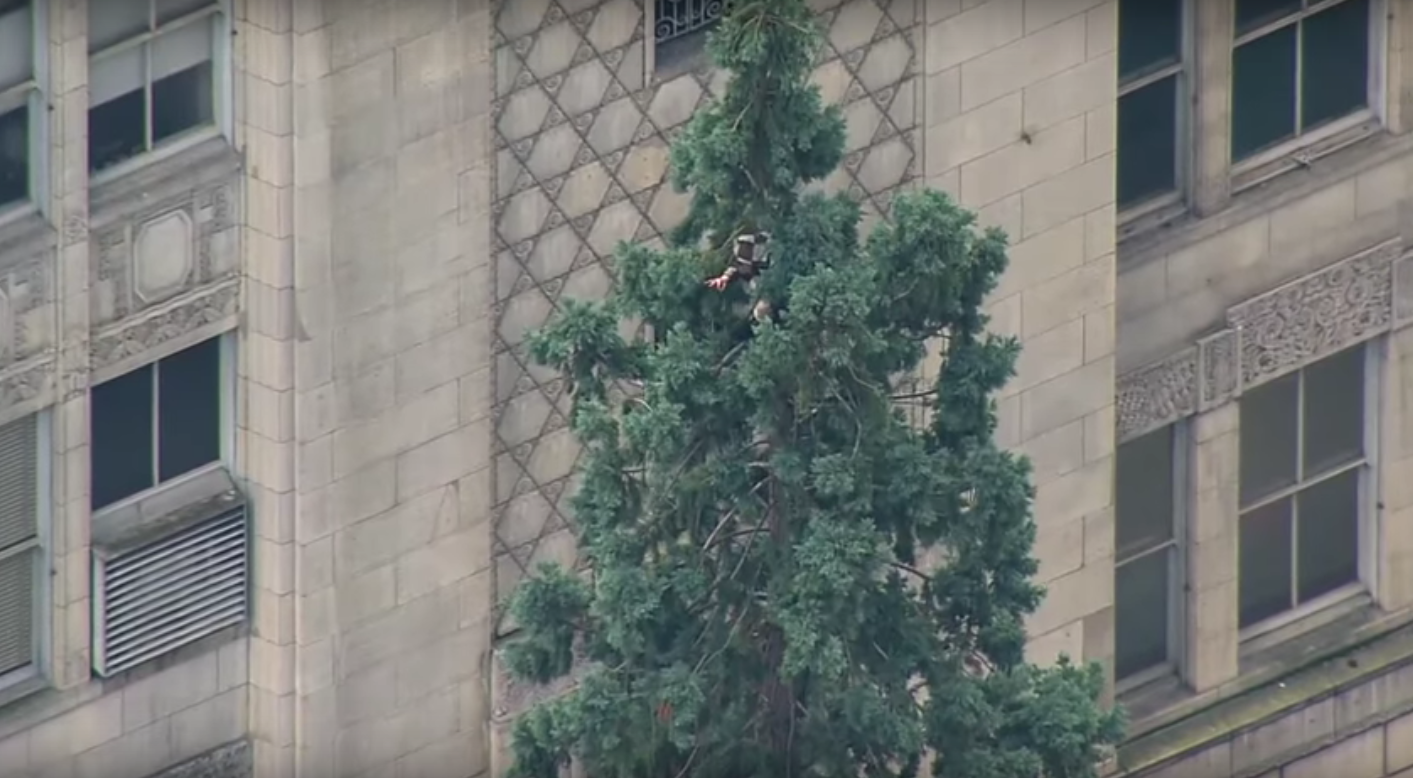 Yesterday this man climbed the entire height of the tree, eventually letting himself get situated toward the very top.
And just in case you think the sensationalism is clickbait bullshit, here's how tall this f*cking tree is: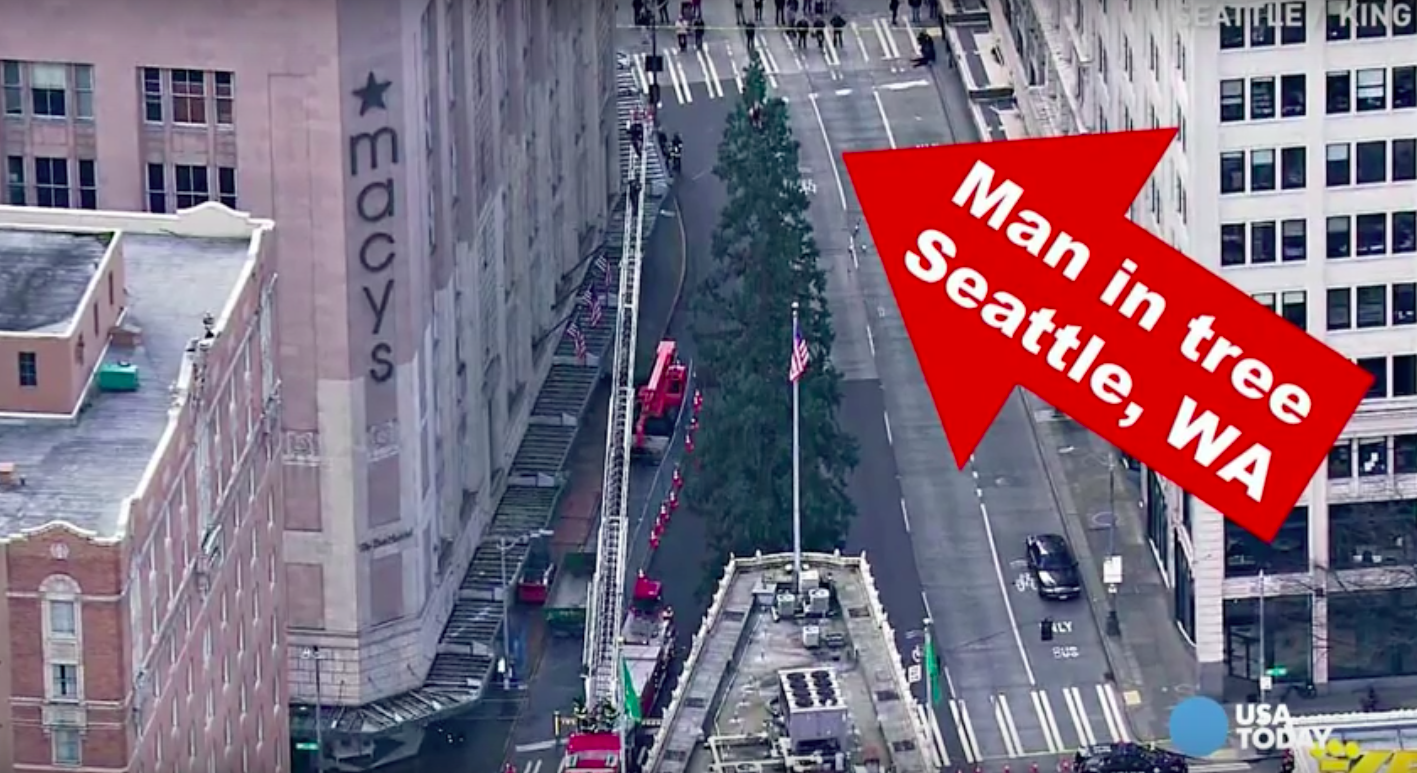 The police and emergency services have been trying to get him down, or at least communicate, but to little avail.
Some streets closed around 4th Ave/Stewart as police and @SeattleFire work to get a man out of a tall tree.

— Seattle Police Dept. (@SeattlePD) March 22, 2016
They seemed to get some initial information about WHY the man was holding this particular tree hostage.
.@heyjessibrown There will likely be traffic impacts in the area, but issue appears to be between the man and the tree.

— Seattle Police Dept. (@SeattlePD) March 22, 2016
But the man also didn't seem to be in the mood for visitors.
Negotiators still working to contact man in tree at 4/Stewart. So far has refused to speak w/police and has thrown an apple at medics.

— Seattle Police Dept. (@SeattlePD) March 22, 2016
Traffic impacts continue arnd 4/Stewart as negotiators work to talk man down from tree w/assistance of @SeattleFire pic.twitter.com/jaduW6Akfi

— Seattle Police Dept. (@SeattlePD) March 22, 2016
The man escalated from throwing apples to throwing entire branches as firefighters who tried to communicate with him from a fire truck ladder.
https://www.youtube.com/watch?v=_pGZZsbQBLs
He also told rescuers, apparently, that he was armed with a knife — in case the branches and apples weren't warning enough.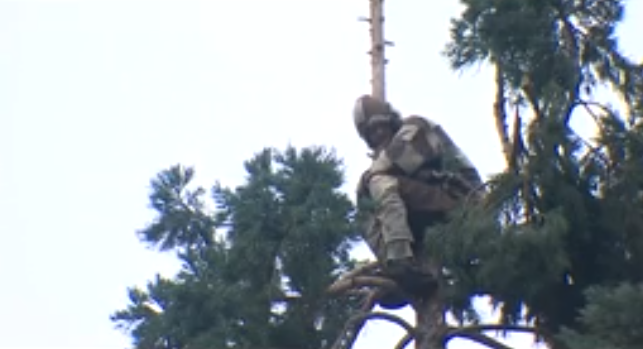 Reports indicate that the man doesn't seem restless — anything but. He has apparently constructed himself a very comfortable nest.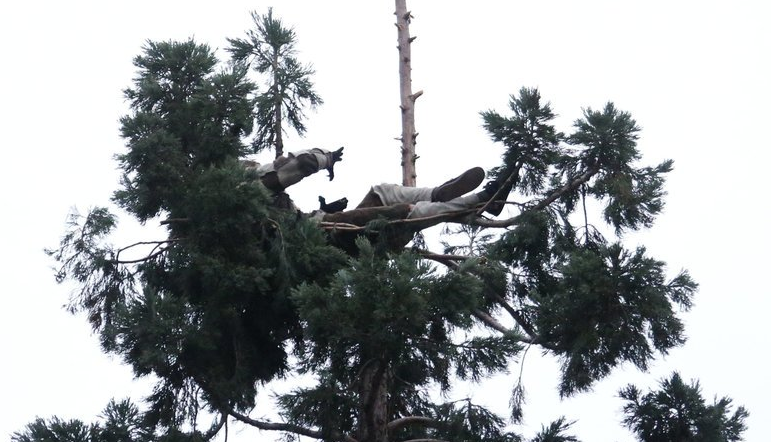 And if this situation couldn't get any stranger, last night a local MMA "superhero" named Phoenix Jones tried to bravely intervene by bringing the man beer and cigarettes, which Jones claims has solved all situations with the man in the past.
#ManInTree if this is not solved by 8 o'clock I will come up with a strategy and attempt to help. Sometimes only crazy can help crazy.

— Phoenix Jones (@ThePhoenixJones) March 23, 2016
So we are here but Spd says it's under control and they don't want our help. Nine hours still stuck #letphoenixhelp pic.twitter.com/8O5TcTd0FV

— Phoenix Jones (@ThePhoenixJones) March 23, 2016
KOMO News has been conducting a live-streaming of the tree with updates on the man's movement as they happen.
And a fan Twitter account has also been made to update the public on news from the man.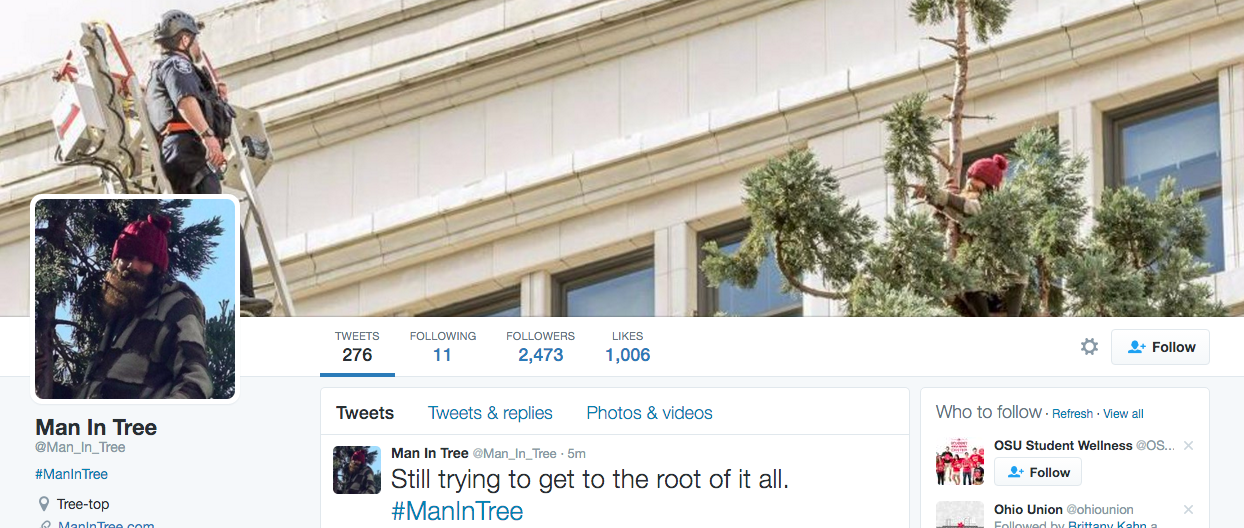 Meanwhile, Seattle Police have said that they just have to wait him out.
"We can't spread out the trampolines and get out the tranquilizer gun as if he's a bear … We'll just have to wait him out."
As this story has gone viral across the internet, people have brought up questions of mental health and mental service. Phoenix Jones, who has suggested he knows the man somewhat well, said that:
Thank you for the support I just hope that @SeattlePD remembers this guy is not a criminal pic.twitter.com/I0XeOUkA06

— Phoenix Jones (@ThePhoenixJones) March 23, 2016
Other people across social media agree, and go even further:
" #ManInTree is emblematic of our failures to fund and provide services for mental health in our community." KATE JONCAS YESSSSS PREACH

— Seattlish (@seattlish) March 23, 2016
All joking aside, #manintree may end up being a true example of our city's need for better mental health treatment https://t.co/tusGGrmsBy

— Nathan Wilson (@WilsoNews) March 22, 2016
https://twitter.com/mslorenamercado/status/712686807805079552
https://twitter.com/jane_c_hu/status/712672189007310848
People point to the lack of mental health services offered all across the United States, and how these services are particularly difficult to access for the homeless.
Whatever your reasoning or needs, godspeed #ManInTree.