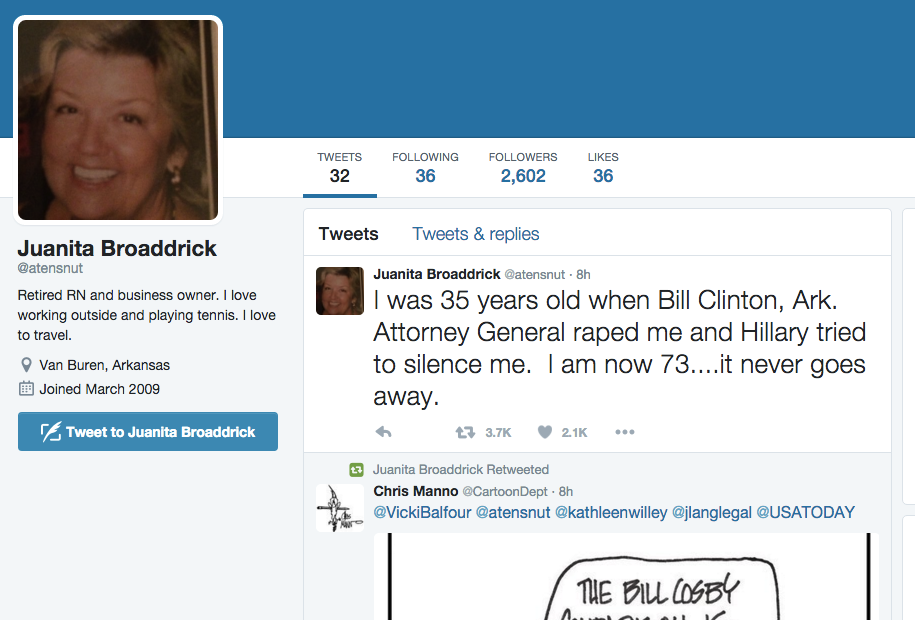 It was 1999 when Juanita Broaddrick finally came forward to discuss her rape allegations against Bill Clinton from two decades prior. It was almost another two decades before she would take her allegations onto Twitter.
Broaddrick claimed that she wanted to campaign for Clinton in his 1978 Arkansas gubernatorial campaign. Instead of meeting her in his campaign office, however, Clinton asked her to share coffee in her hotel room. Broaddrick told NBC News during her 1999 disclosure that this is what happened next:
"Then he tries to kiss me again. And the second time he tries to kiss me he starts biting my lip … He starts to, um, bite on my top lip and I tried to pull away from him. And then he forces me down on the bed. And I just was very frightened, and I tried to get away from him and I told him 'No,' that I didn't want this to happen but he wouldn't listen to me. … It was a real panicky, panicky situation. I was even to the point where I was getting very noisy, you know, yelling to 'Please stop.' And that's when he pressed down on my right shoulder and he would bite my lip.

When everything was over with, he got up and straightened himself, and I was crying at the moment and he walks to the door, and calmly puts on his sunglasses. And before he goes out the door he says 'You better get some ice on that.' And he turned and went out the door."
Broaddrick would go on to claim that Hillary Clinton worked to "quiet her" and that the future First Lady actually thanked her for not going public with her accusations.
Now, many years later, Broaddrick is on Twitter, and she's speaking her mind:
The first tweet was from this September (when people weren't even sure it was her account) and it all goes from there:
Thoroughly disgusting–Hillary's comments on rape. Shame on you, Hillary, shame on you!!

— Juanita Broaddrick (@atensnut) September 15, 2015
Sometimes memories sneak out of my eyes and roll down my cheeks (purple clover) even after all this time.

— Juanita Broaddrick (@atensnut) October 5, 2015
In the past few days she's began tweeting yet again again:
Was dreading seeing my abuser on tv campaign trail for enabler wife……but his physical appearance reflects ghosts of past are catching up

— Juanita Broaddrick (@atensnut) January 5, 2016
I was 35 years old when Bill Clinton, Ark. Attorney General raped me and Hillary tried to silence me. I am now 73….it never goes away.

— Juanita Broaddrick (@atensnut) January 6, 2016
The legal case against Bill Clinton was officially dismissed in 2001.