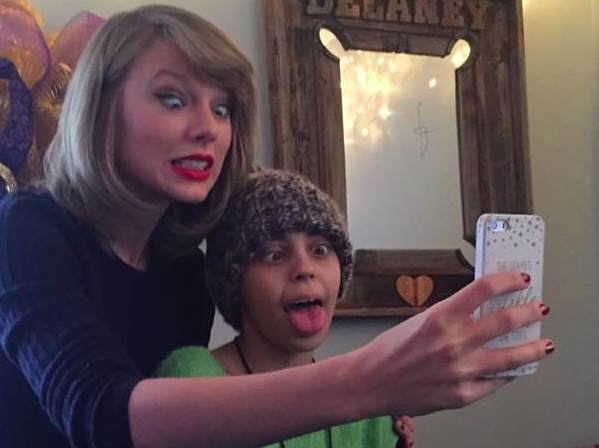 Delaney Clements is a 13-year-old girl from Colorado who has been waging a fierce battle against neuroblastoma, a cancer that attacks the endocrine system.
https://www.instagram.com/p/93766IMNVP/?taken-by=delaneyy.bugg
Delaney has been fighting cancer since 2010. She gained media attention in 2014 after a friend shaved her head in solidarity with Delaney during her treatment.
A few weeks ago, however, Delaney's cancer took a turn for the worse and her family made the decision to move her to hospice care.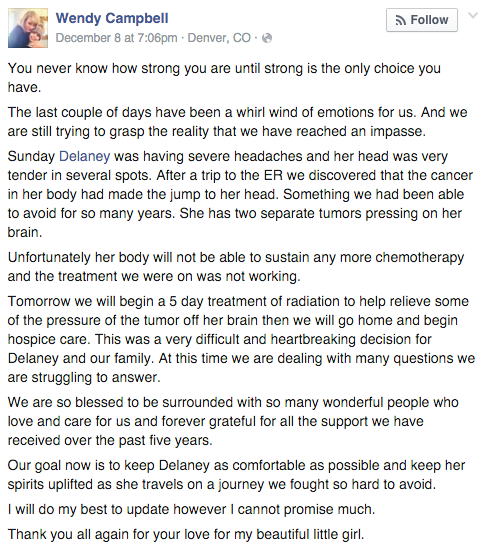 With this somber announcement, the area community decided to come together to help grant the ailing teen's wish to meet her favorite pop star — Taylor Swift. A local radio station called for people to tweet the hashtag #DelaneyMeetTaylor, to hopefully get Taylor's attention.
And it worked.
https://www.instagram.com/p/_fa7XzMNYy/?taken-by=delaneyy.bugg
On her way back home for the holidays, Swift made sure to visit one of her biggest and strongest fans.
Delaney was ecstatic:
Literally speechless right now!!!!! My new best friend ( as I call her now ) made a special stop from going home to Tennessee and surprised me and gave me the best present/ hugg ever!! Thank you !! I love you!! Happy holidays!!😍💙☃
"So happy for my baby girl," Delaney's mom Wendy posted on Facebook. "Thank you Taylor Swift for the best Christmas present ever."
Between this brave girl, the passionate community that supported her dream, and a pop star who made the time, we can be reassured that the world is a good place.