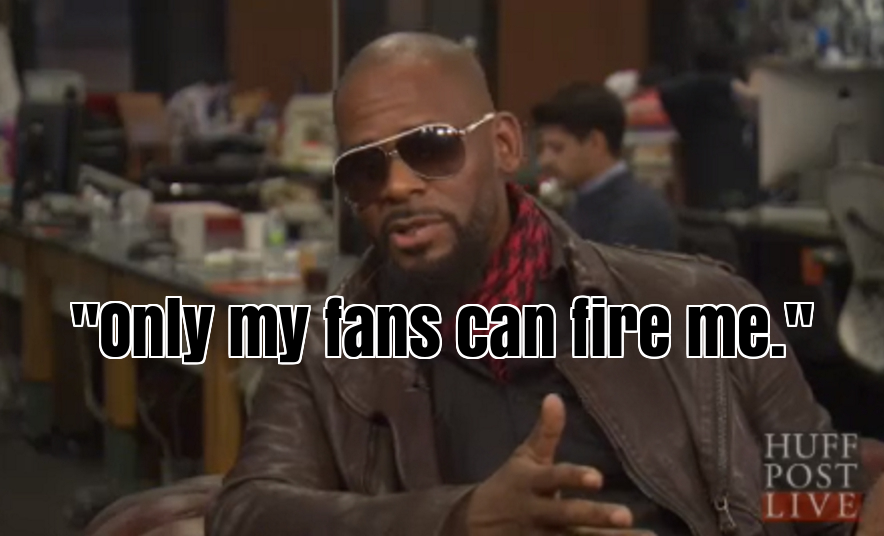 Earlier today, R&B artist R. Kelly had an interview with HuffPost Live that went about as strangely as it possibly could have.
Caroline Modarressy-Tehrani was the host, and began the interview by asking R. Kelly about his new album and about the trend toward buying music digitally.
But roughly seven minutes into the interview, Modarressy-Tehrani began addressing the multiple sexual abuse allegations that had been leveled toward him, and everything changed. For the worse.
Instead of dismissing the claims, R. Kelly pointed to how the fans don't really care, and until they care, he can just keep "doing R. Kelly," and that, "I'm not perfect, but I'm perfectly me."
He went on to talk about how successful he currently is, or persistently discuss about how he "loved everyone" even people who disliked him.
The longer the interview went on, the less Modarressy-Tehrani was able to talk, with R. Kelly just droning her out with the same few lines, or going on weird monologues about hating negativity.
He kept railing against the questions, and even when Modarressy-Tehrani changed the question, and asked him specifically about his lyrics, he accused her of disrespecting him and not being smart enough to recognize it.
R. Kelly then took another turn for the weirder, and began interrogating Modarressy-Tehrani on her social habits, asking her how much she drank and if she ever got drunk.
And then, in a dramatic conclusion, R. Kelly just straight up walked off the set.
Not tryna be rude, but R. Kelly just walked off @HuffPostLive's set after a question about sexual abuse allegationshttps://t.co/vX4blo86WI

— HuffPost (@HuffPost) December 21, 2015
People on social media have had some pretty intense reactions to the brouhaha of an interview:
R. Kelly has been dodging accusations like Neo from the Matrix since the 90s, nothing new here.

— Everette Taylor (@Everette) December 21, 2015
https://twitter.com/speakz/status/679030687073107968
https://twitter.com/PBlackk/status/679028030715498496
🎶It's the remix to Ignition,/R. Kelly should be in prison…🎶

— Fully-F'n-Vaccinated! (@HoldenDCat) December 21, 2015
I saw someone tweet R. Kelly's misdeeds are "in the past" as if that bastard doesn't have all the free time/charges pending. Shut up.

— møbbdë3ń (@Deen8) December 21, 2015
Watch the whole HuffPost Live interview below:
This might have been the weirdest interview ever.