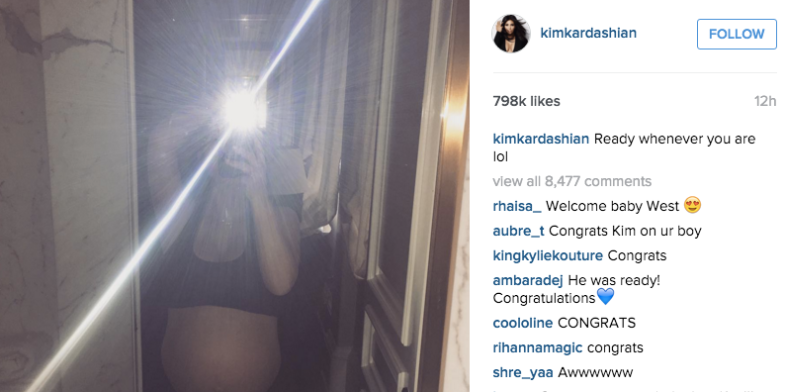 Early Saturday morning Kim Kardashian West and Kanye West welcomed their new baby boy into the world. This is their second child after Baby North was born in 2013, and literally the entire internet is excited to meet the newest little member of this adorable clan.
The birth was foreshadowed by many Kardashian fans by an Instagram Kim posted last night, saying "ready when you are lol."
Hopefully his name with be "South??"
1.
im so happy for my mom and dad @KimKardashian @kanyewest 💜

— k (@diorIoving) December 5, 2015
2.
@KimKardashian No one understands how happy I am!!!! Can't wait to hear what they named him ☺️☺️ #BabyBoyWest

— Kylizzle (@_ks22) December 5, 2015
3.
@KimKardashian CONGRATS MAMA ILY

— virginia (@VIRGINIALAMBE) December 5, 2015
4.
https://twitter.com/Dtt_Natu/status/673177169103843329
5.
Kim Kardashian West had her baby this morning. Yay. Praying for her and her new angel.

— kimberly mcdonald (@kiki29073) December 5, 2015
6.
https://twitter.com/laurenggardnerr/status/673177949630275585
7.
I KNEW @KimKardashian was gonna have the baby after those insta posts last night!! Crazyy #WELCOMEBABYBOYWEST

— PJ ♡ (@pjcapello) December 5, 2015
8.
https://twitter.com/marisssbaaaby/status/673178463084277760
9.
Kim Kardashian had her baby today I wonder how long it's gonna take for her to show him 😂

— miriyawn ✨ (@mirianmedina_) December 5, 2015
10.
https://twitter.com/Cassandratamtom/status/673179754313424896
11.
https://twitter.com/dopeyjoey/status/673179753428447232
12.
Congrats @kanyewest and @KimKardashian on the new baby boy!

— mike (@magicmiiike) December 5, 2015
Though, there will always be haters, of course.
Ugh now of course the top news of the day is about Kim Kardashian having a baby WHO CARED SHUT YOUR MOUTH AND ENJOY YOUR KID NO ONE CARES

— Diana B (@diana_b34) December 5, 2015
@NYDailyNews @TMikaMouse @KimKardashian Baby's gonna have a big ass, big mouth and be dumb as a rock!! #WhoCares

— Covfefe is a #Dotard (@EndTrumpEra) December 5, 2015
Oh well, I guess cute babies don't make everyone smile. They make me smile though!