Donald Trump made more waves recently when he suggested that all new Muslims immigrants should be banned from the United States of America.
https://twitter.com/realDonaldTrump/status/673982228163072000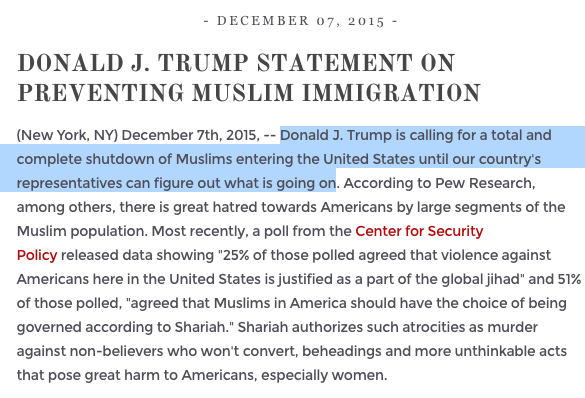 His new "policy idea," if one considers word vomit to be "policy," elicited some pretty negative responses from Democrats and Republicans alike:
Donald Trump is unhinged. His "policy" proposals are not serious.

— Jeb Bush (@JebBush) December 7, 2015
WH Press Sec. Earnest: "What Donald Trump said yesterday disqualifies him from serving as president." –@ABCPolitics pic.twitter.com/xsL53gNRZ6

— ABC News (@ABC) December 8, 2015
https://twitter.com/MattMooreSC/status/674024894397620224
We need a leader that will unite us, not divide us @realDonaldTrump – Sign if you agree https://t.co/cdx5VrKtMt pic.twitter.com/G9F2XBMQDF

— John Kasich (@JohnKasich) December 8, 2015
But the fiercest burn didn't come from a politician, but rather, an author.
JK Rowling, best-selling author of the beloved Harry Potter series, posted the following tweet after Trump made his comments:
Lord Voldemort, of course, was the architect of not one, but two, great Wizarding Wars. But, having created Voldemort, JK Rowling seems in the best position to judge his merits vs. Donald Trump's merits, and pretty much everyone agrees.
@jk_rowling @BBCNewsbeat THIS IS THE BEST THING IVE EVER READ

— karli (@KIWIKARLl) December 8, 2015
@jk_rowling I love sassy Rowling

— Alex (@Havenn96) December 8, 2015
Is there any way JK Rowling can get her wizarding friends to perform a Vanishing Charm on Donald Trump? Please?