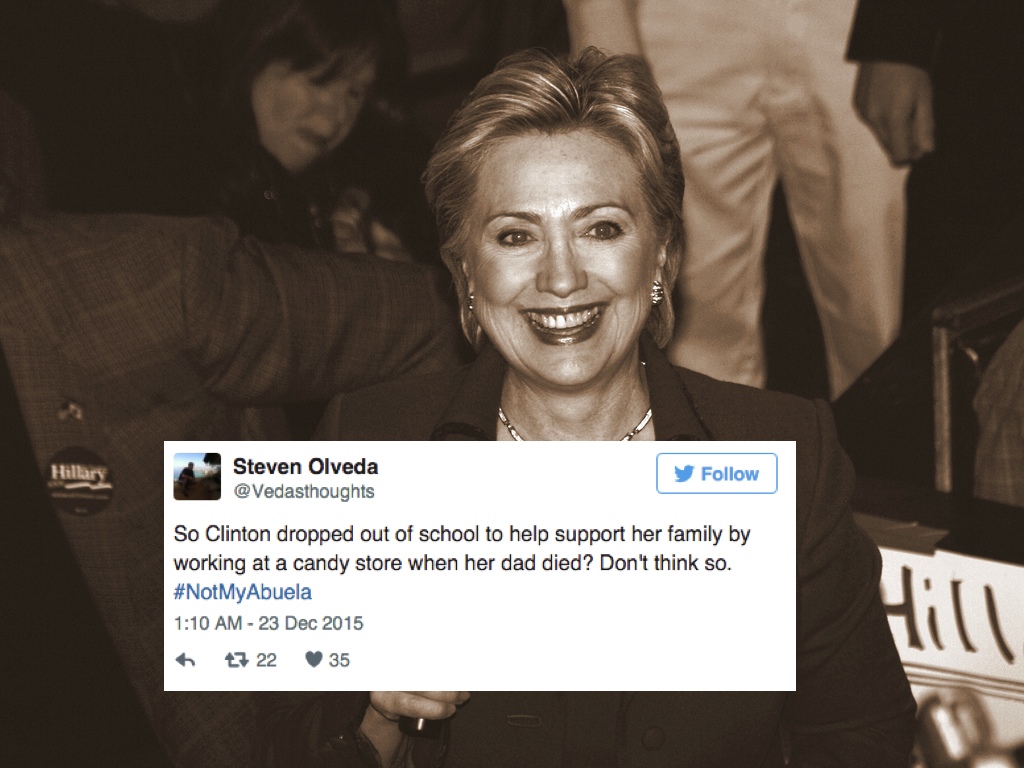 Today the Clinton campaign released a list, "7 ways Hillary Clinton is just like your abuela." Abuela, of course, being the Spanish word for "grandmother."
Now, lists are great. Lists can help speed up the process of organizing and disseminating important information. Lists become predictably less helpful, however, when they are used to claim ownership over a specific identity that one does not hold.
Many people also saw the post as a direct attempt to pander the hispanic community, as the list was pretty much devoid of content. For instance, some of the "ways" Clinton was similar to "your Abuela" included her ability to read stories or the fact she "knows what's best."
People have responded with #NotMyAbuela, a trending hashtag campaign where folks are firing back, saying that Hillary Clinton is not similar to their Abuela.
1.
So Clinton dropped out of school to help support her family by working at a candy store when her dad died? Don't think so. #NotMyAbuela

— Steven Olveda (@Vedasthoughts) December 23, 2015
2.
#NotMyAbuela because my Abuela doesn't fund wars in impoverished countries like the one she lives in

— tweeter deleter (@cactihugger) December 23, 2015
3.
#NotMyAbuela she died while my family was in removal proceedings. We never got a chance to go to #oaxaca for the burial.

— Fabiola Santiago (@OaxacTheTalk) December 23, 2015
4.
Hilary Clinton didn't work so hard until her hands hurt like my grandma just to put food on the table #NotMyAbuela pic.twitter.com/juKUkb8WCe

— Victoria (@Tori1337) December 23, 2015
5.
@HillaryClinton You didn't have to struggle with the language barrier to the point where you couldn't get medical attention. #NotMyAbuela

— Melanie🌻 (@melaniepamela_) December 23, 2015
6.
https://twitter.com/KR_KnowUrRights/status/679539923968462848
7.
My abuelita and I divided by the border wall. Abuelitas don't militarize communities. #NotMyAbuela pic.twitter.com/nykh5At5Z3

— Christian Ramirez (@RamirezUSMEX) December 23, 2015
8.
https://twitter.com/TheMexicanVines/status/679536298869194756
9.
https://twitter.com/cindylou88881/status/679516053064400896
10.
Mi abuela wouldn't try to buy Latino votes by using Spanish words & trying to seem relatble to struggles she'll never know #NotMyAbuela

— K Aryana (@hereformess) December 23, 2015
11.
https://twitter.com/70torinoman/status/679506908626042880
12.
https://twitter.com/hsmythwithaY/status/679492588907442177
13.
#NotMyAbuela. Mine fought poverty for her 11 children & couldn't see half of them before she passed away because of a border.

— Erika Andiola (@ErikaAndiola) December 23, 2015
14.
my abuela wouldn't support the deportation of central american child migrants to the violent countries they tried to flee from #NotMyAbuela

— pau (@paulinecstasy) December 23, 2015
15.
https://twitter.com/alexandrabc1214/status/679432850530152452
16.
Latinos aren't one size fits all. It takes more than a few Spanish words & cute pictures to get the Latino vote. #hillaryabuela #NotMyAbuela

— Vanessa Oden Show (@VanessaOden) December 22, 2015
The Clinton campaign has since changed the title of the list post to "7 things Hillary Clinton has in common with your abuela."