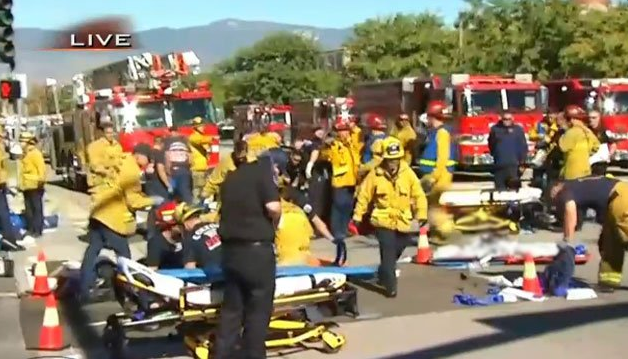 1. The mass-shooting is taking place in San Bernardino, California, which is a city in the southwest corner of the state with approximately 210,000 citizens.
2. Local news has identified the epicenter of the shooting as a social services facility for those with disabilities around 1300 block of S. Waterman.
3. Authorities have warned that as many as 1 – 3 shooters might be involved in the assault.
.@SanBernardinoPD has confirmed 1to3 possible suspects.Multiple victims. #SBCSD &other agencies assisting. More info to come. #SanBernardino

— San Bernardino County Sheriff (@sbcountysheriff) December 2, 2015
4. Though many witnesses are convinced there are three shooters.
Witnesses confirming 3 shooters "without a doubt" #SanBernardino

— Canada Keith (@shiguy79) December 2, 2015
#BREAKING: @abc7robmcmillan cites "very reliable source" who says there are THREE confirmed shooters. #SanBernardino

— Katie Chrystler (@kchrystler) December 2, 2015
5. And that they may be wearing ski-masks.
#Breaking Witnesses saying at least 2 males with Ski-Masks wearing vests #SanBernardino

— Twitsnoop (@Twitsnoop) December 2, 2015
6. News sources are reporting that up to 20 people are already wounded from the attack. Other sources are saying that number is closer to twelve.
7. A "suspicious device" might exist on the north side of a specific building in the area, and police are being ordered to exit that building.
"We need to slow down, we found a suspicious device in *EDITED* building." #SanBernardino scanner

— Mr Ghostly (@Mr_Ghostly) December 2, 2015
8. Witnesses have also indicated that the shooters appear heavily armed, and possibly wearing body armor.
#SanBernardino witness says "suspects wearing masks and possible body armor" @fox6now

— Stephanie Grady (@StephGradyTV) December 2, 2015
9. New reports indicate that the shooters have left the scene in a black SUV.
https://twitter.com/jlangdale/status/672150974354620416
10. The shooter(s) is still at-large, and much information is forthcoming. The situation is extremely fluid, and more updates will be added as we get them.