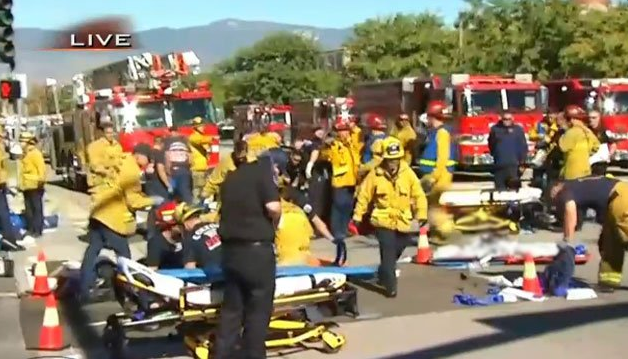 1. The mass-shooting is taking place in San Bernardino, California, which is a city in the southwest corner of the state with approximately 210,000 citizens.
2. Local news has identified the epicenter of the shooting as a social services facility for those with disabilities around 1300 block of S. Waterman.
3. Authorities have warned that as many as 1 – 3 shooters might be involved in the assault.
4. Though many witnesses are convinced there are three shooters.
5. And that they may be wearing ski-masks.
6. News sources are reporting that up to 20 people are already wounded from the attack. Other sources are saying that number is closer to twelve.
7. A "suspicious device" might exist on the north side of a specific building in the area, and police are being ordered to exit that building.
8. Witnesses have also indicated that the shooters appear heavily armed, and possibly wearing body armor.
9. New reports indicate that the shooters have left the scene in a black SUV.
10. The shooter(s) is still at-large, and much information is forthcoming. The situation is extremely fluid, and more updates will be added as we get them.