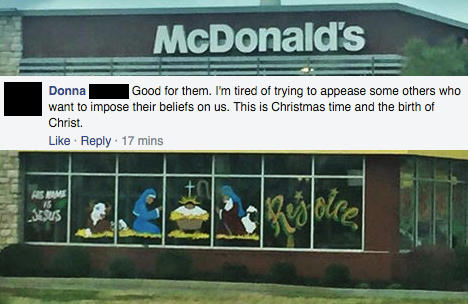 Amy Basel shared a post a few days ago that has gone viral in conservatives circles. She snapped a photo of this Tennessee McDonalds that has a nativity scene in the window, with the words, "His Name is Jesus." Amy praised the artwork, saying that she never saw anything like that when she lived in Michigan.
Hundreds of commenters on her post praised the restaurant for standing up for Christianity in the "war on Christmas."
Apparently "Christian pride" = "American pride." Who knew!
This McDonalds is the only thing standing between Christianity and total oppression, apparently!
Though some people feel like they are already being oppressed!
Also, I think this might have been an attempted exorcism?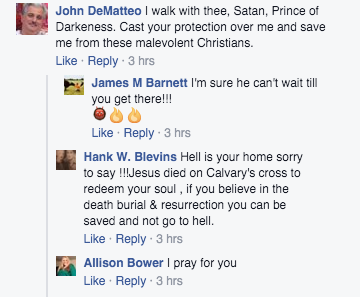 Some people tried to provoke some civil conversation on the issue, raising the idea that maybe these hyper Christians aren't quite as oppressed as they think, but maybe they just aren't being overtly privileged in the way they used to be.
But the discussions rarely worked out that well…
Possibly because people had trouble considering other points of view that weren't so black-and-white…
I never thought it would be McDonalds that would strike the final blow in the "war on Christmas." Every day is a surprise, right?