Meet Veerender Jubbal. This is a picture he took of himself in the bathroom of his Canadian home.
And this is the picture of Veerender that was photoshopped and then posted by unknown online trolls:
Because of massive retweeting and sharing, the image was quickly picked up by an actual media outlet, Italy-based Sky TG24.
Which they then proceeded to tweet out on Twitter as well.
But, thankfully, as the photo made the rounds, people began noticing that there were some things that didn't quite add up.
Like, for instance, isn't that a North American plug?
Also, there appears to be a not-so-inconspicuous dildo that doesn't seem compatible with violent Islamic extremism.
And his headpiece is a Sikh turban (a Dastar), and the Sikh faith has no connection to ISIS, which is claiming credit for the Paris attacks.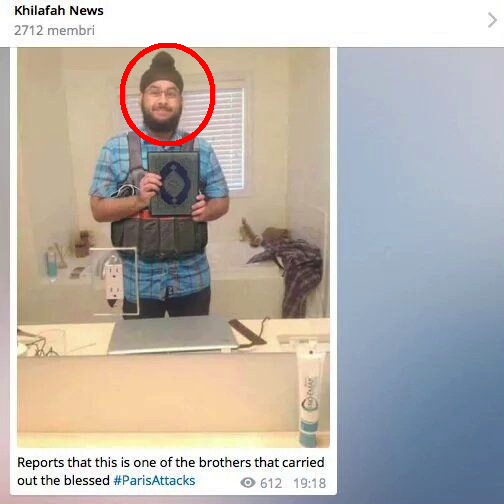 Finally, doesn't that Quran actually look eerily the same size as an Ipad??
Veerender is active on Twitter, and essentially watched the whole mess as it unfolded:
So, like, it spread.

— Veerender Jubbal (@Veeren_Jubbal) November 14, 2015
He desperately tried to vindicate himself based on evidence and, well, common sense.
You can all check the last retweets.

Let us start with basics.

Never been to Paris.

Am a Sikh dude with a turban.

Lives in Canada.

— Veerender Jubbal (@Veeren_Jubbal) November 14, 2015
But it took a lot longer than it should have.
Why was this innocent man targeted? Veerender suspects that it has to do with #GamerGate trolls who had an axe to grind.
Gamers are absolute garbage like I have been saying for a full year.

People will not stop harassing, and bothering me.

I am cute as gosh.

— Veerender Jubbal (@Veeren_Jubbal) November 14, 2015
#GamerGate was a movement born in August 2014 by upset gamers who felt like they had to protect their collective "identity." Their ranks have been accused of holding misogynist views that seek to push women (and other identities) from gaming.
Veerender vocally opposed #GamerGate, tweeting about it often, and even creating the #StopGamerGate2014 hashtag.
Do you know why I made my hashtag?

Because GamerGate was/is hurting marginalized folks.

Marginalized–not just one group–numerous groups.

— Veerender Jubbal (@Veeren_Jubbal) August 26, 2015
Despite this, he often made a point of encouraging his fellow #StopGamerGaters to use inclusive language, and not stoop to slurs when arguing with their opponents.
All right–you hate GamerGate? Guess what? Do not call them ableist terms/slurs. Not how you criticize. I bring this up a lot for them.

— Veerender Jubbal (@Veeren_Jubbal) April 27, 2015
But for his opposition — and occasional lack of tact himself — he was reviled by those in the #GamerGate movement, as shown by his entry in their group's Wiki site:
Veerender also blames Gamer Gaters for 9/11 photos with his face photoshopped in them that circulated a few months ago.
GamerGate put my selfies on 9/11 images.

Never forget.

— Veerender Jubbal (@Veeren_Jubbal) August 10, 2015
#GamerGaters, however, vehemently deny that they are directly responsible for the image, though many of them aren't denying their giddiness at Veerender's position.
https://twitter.com/ChristiJunior/status/665708679807827968
https://twitter.com/Jasperge107/status/665963915554234368
https://twitter.com/TheDamnedReport/status/665958094216814592
There are also those who say that while members of #GamerGate did not create the image, they did retweet it and ensure it got to the point where it was noticed by the media.
He's not the one who got this comment to be the top rated one on the thread about this.

That was you, #gamergate. pic.twitter.com/8A6HfSuaOn

— Azure (@aguyuno) November 15, 2015
No matter who edited what, who retweeted what, et cetera, this is an incredibly shitty position to be put into. Hopefully people look after each other a little bit more, and practice a tiny bit of compassion going forward, especially considering how serious the topic of terrorism and the Paris attacks are.