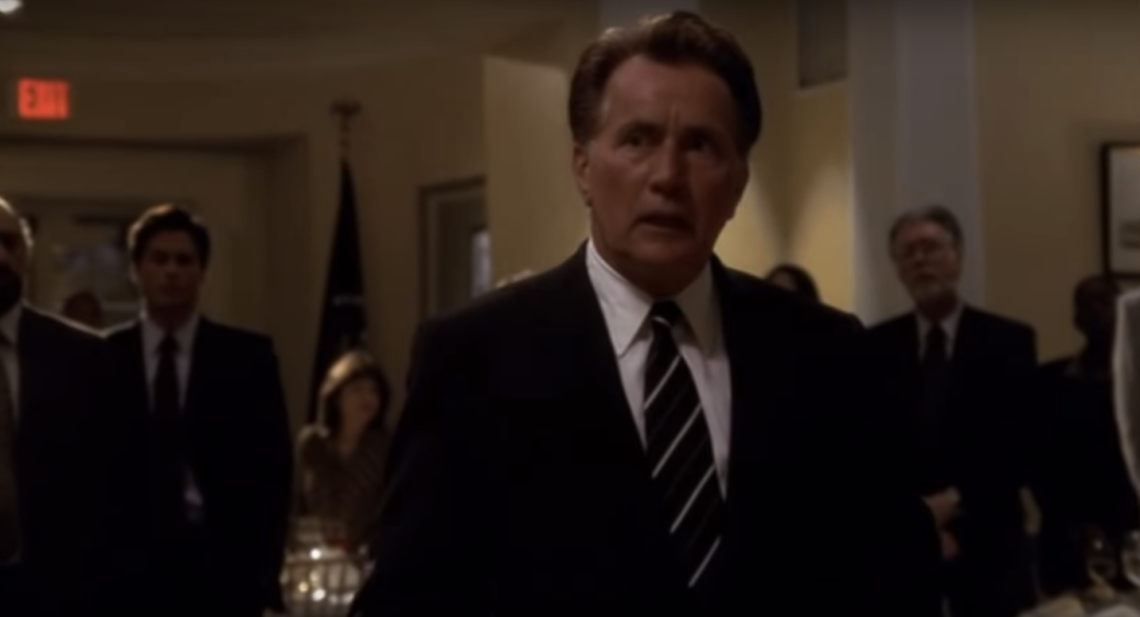 1. Martin Sheen wasn't the first choice to play the role of President. The production team actually planned on tapping Sidney Poitier for the role, but talks didn't "go far."
2. In addition, the President wasn't even meant to be a frequent character in the series! The original idea was that POTUS might pop in every few episodes, but the focus would stay solely on the White House staff. Martin Sheen was so skilled at the part, however, viewers clamored for more.
3. Actually, the whole show was originally supposed to circle specifically around Sam Seaborn. The strong performances of the entire cast, however, transformed The West Wing into more of an ensemble performance, which is one of the reasons Rob Lowe (who played Seaborn) would leave at the end of season 4.
4. NBC was anxious about green-lighting an intellectual show with so much heavy dialogue, and originally asked Aaron Sorkin to include some "action scenes." One of their suggestions was for the pilot episode where a group of Cuban refugees were stranded at sea. NCB floated the idea that Josh Lyman should raft out into the Gulf of Mexico and personally save them.
5. Martin Sheen put his jacket on like a badass because of a severe arm injury he suffered as an infant.
6. All the actors couldn't stop pranking each other while on set. By far, the worst culprit was Joshua Malina, who once put stolen computers in a director's trailer, and created a fake Twitter for Bradley Whitford spewing off "drunken" ramblings questioning his sexuality. Whitford got his revenge by writing a scene where Malina's character, Will Bailey, had to emphatically say the phrase, "I am a terrible actor."
There is a fine line between being the life of the party and being unemployable. — Joshua Malina
7. CJ Cregg's flirtatious affairs with reporter Danny Concannon were actually based on the true dynamic between Clinton White House Press Secretary Dee Dee Myers and her husband who was a New York Times reporter.
8. Donna Moss was expected to be an extremely minor part on the show, so much so that actor Janel Moloney kept her hostess job through the first few episodes of season one.
https://www.youtube.com/watch?v=3Lm0dV8yuqg
9. Kathryn Joosten, the actor who played Dolores Landingham, killed off her own character by telling Aaron Sorkin about her plans to join the cast of another show . Reportedly, minutes after Jooston told him of her plans, Sorkin creepily declared that he was going to, "Kill Mrs. Landingham."
10. When Mrs. Landingham was killed off at the end of season two, the real life California General Assembly had a moment of silence in her memory.
11. Despite being the show's creator, and at its head for four seasons, Aaron Sorkin's daughter has never seen an episode of The West Wing.
12. Aaron Sorkin never really intended to pitch The West Wing. He wasn't planning to move to television, but his agent bullied him into going to a meeting with producer John Wells, and the night before, Sorkin's friend Akiva Goldsman suggested a show about White House staffers. When Sorkin went to his meeting with Wells that is precisely what he pitched, and Wells totally loved it.
John got down to business and said, "What do you want to do?" And instead of saying, "I'm sorry, there's been a misunderstanding. I don't have anything to pitch," I said, "I'd like to do a series about staffers at the White House." — Aaron Sorkin
13. Filming for the series oftentimes went very late into the night. Aaron Sorkin was notorious for taking too long with a script, and production tended to drag.
14. The show had tons of real world political consultants. Press secretaries from the Bush and Clinton White Houses, as well as congressional aides helped give the show a realistic flavor.
15. Once, when filming in Washington DC, Bradley Whitford got invited to the White House situation room for drinks.
16. There is one totally out of canon episode that was filmed as a response to the September 11th, 2001 attacks called "Isaac and Ishmael."
17. There is a community of twitter accounts for West Wing characters, and even nine years after the show's end, many of them are still going strong.
#ft joshualyman, because I promised in sickness and in health, and this includes the Mets thing.

— Donna Moss (@donnatella_moss) October 24, 2015
"Why is a Kundunese life worth less to me than an American life?" #JDRewatch

— AinsleyHayes (@AinsleyHayes) October 15, 2015
MARGARET! Get the NY Times crossword guy on the phone. I need to ask him why 'Jiggery-Pokery' hasn't shown up already.

— Leo Thomas McGarry (@LeoMcGarry) June 30, 2015
18. Richard Schiff greatly disliked the direction his character, Toby Ziegler, took in the last season. Toby confessed to betraying President Bartlet and leaking classified information to a New York Times reporter, which goes against pretty much almost everything we know about Toby. Schiff has said that he justified plot-line in his head by believing that Toby was covering for someone else in the administration.
19.  There is a great deal of controversy about whether the presidential election victory of Matt Santos was influenced by the death of Leo McGarry's actor, John Spencer. Show producer Laurence O'Donnell claimed that Arnold Vinick was originally supposed to win, but the result was re-written after Spencer died, as an electoral defeat and death of a running mate might be too dark an ending for the series.
Others, however, have come forward to say that Santos was always suppose to win, while others still have said that the skilled "campaigns" of both actors had the screenwriters debating who should win all the way up 'til the end.
20. CJ Cregg's rendition of "The Jackal" was inspired by actor Allison Janney doing the routine in her trailer between sets. Aaron Sorkin thought it was so funny he plopped it right in the series.
21. Fox's Minority Report actually takes place in The West Wing universe. The pilot episode has a scene that takes place in "Bartlet Plaza" which was named in memory of a certain former President.