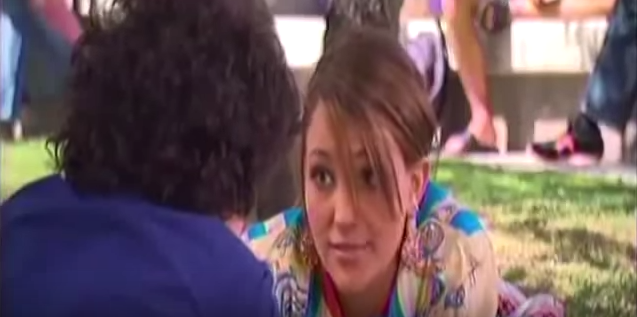 Pretty much all of Zoey 101 was a tantalizing tease of romantic tension between Zoey Brooks (Jamie Lynn Spears) and Chase Matthews (Sean Flynn).
At the end of the second season there was an episode entitled "Time Capsule," where Zoey records what she really thinks about Chase on a DVD and buries it in a school time capsule that will be opened in twenty years. At the end of the episode, however, Zoey jokingly tells Chase that making him wait twenty years seems "a little mean" and promises that he will find out in only ten.
And now it has been exactly ten years since the original airing of that episode. Keeping the promise, Zoey 101 producer Dan Schneider posted a video on his YouTube account…
The video opens with Chase Matthews proposing to a new girlfriends, but before he is able to get the words out, he is interrupted by his PCA BFF, Michael Barret. Michael has the DVD of Zoey's feelings, and then everything goes completely crazy.
Watch the full clip:
Full transcript of Zoey's time capsule video:
"And now I want to tell you about one of the most special people I've ever met. His name is Chase Matthews, and he's one of the funniest, coolest, nicest guys in the world. And sometimes I think he has a little crush on me, but other times I kinda think he just wants to be friends. All I know for sure is that Chase is really special to me, and who knows, maybe he is even my soulmate."
The youtube video clip ends with the tantalizing question of, "to be continued…?" which leaves us all thirsty for more 90s nostalgia.