In 2011 Bishop Robert Cunningham was called to testify in a federal lawsuit where one of his priests was accused of molesting a child. The bishop's statement in his deposition is shocking. When asked whether the abused boy committed a sin, the bishop responded:
"The boy is culpable."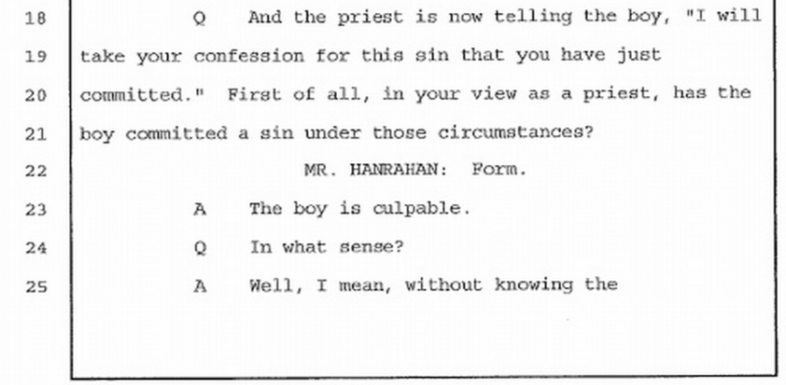 As the testimony proceeded, a lawyer asked Cunningham if he could think of a circumstance in which an underage teenager could be held at fault for a clergyman asking them for sex.
"I would not – obviously, what the priest did was wrong, you're asking me if the young man had any culpability, and I can't judge that."
He was then asked, if an abused child came to him with a "confession" after being abused, would the bishop tell the boy he hadn't done wrong:
"I do not know whether I would say that."
When discussing how the abusive priest took his victims' "confession" for the affair in this particular case, Bishop Cunningham seems to suggest that the boy was an "accomplice" to the bishop's sexual sin:
"The priest does not have the ability to absolve an accomplice in a sin such as this. I'm saying that a priest does not have the power, the authority, to absolve anyone who cooperated with him in – was an accomplice to him in a sexual sin."
Cunningham's testimony is under tremendous fire, and he has attempted to clarify his remarks. Representatives from his diocese have implied that the media is mischaracterizing the bishop's response:
"Bishop Cunningham firmly believes and states (in the deposition) that the boy is not responsible at any level for that act and the abusive actions of a priest were wrong. Depositions by their very nature are meant to be discerning and contentious. Questions are often repeated and wide ranging. One phrase cannot be quoted."
Many members of the diocese, including survivors of clergy abuse, are asking for Cunningham's resignation.