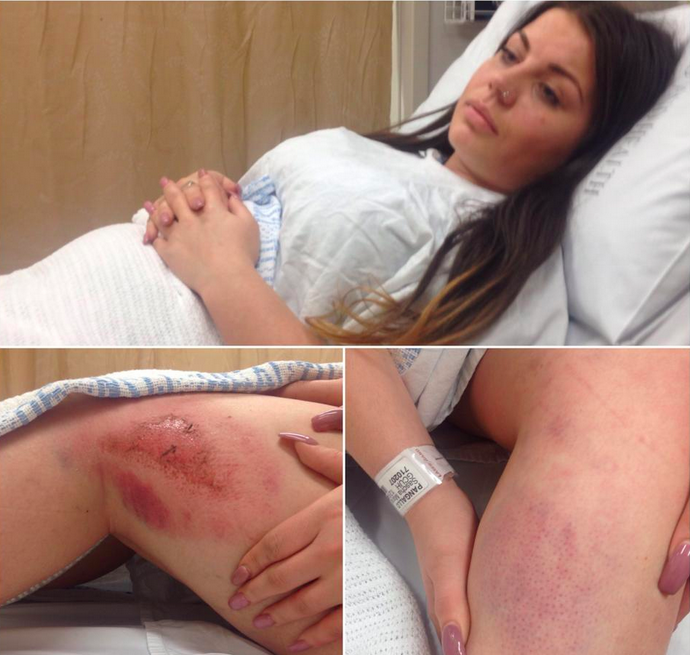 It is a horror story come true.
Sascha Pangallo was just ordering an Uber — something she claims to do daily — when she encountered an incredibly abusive Uber driver who, according to her, physically harassed her and "ran her over."
But let's hear it from her:
I'm not one to post these long novel Facebook statuses, but I really feel that this needs/should be made public – and put to the people. Yesterday afternoon, I ordered an Uber (as I do on the daily.) Little did I know on this particular afternoon I would be stepping into an Uber with a psychotic/mentally unstable driver aka "Paul". After refusing to put my destination into his GPS he requested my directing (which I had no problem with) however I was on an important phone call and during one of the directions he snapped and screamed at me in a very aggressive manner. He then pulled the car over continued to scream "get out of my car" multiple times whilst getting very physical, grabbing me and trying to drag me out of the car. He soon realised that there were 4 on lookers witnessing the whole thing and yelling that they were calling the police – he then panicked and ran back around to the driver side door, jumped in to his 4WD – and hit the accelerator like an absolute maniac. My door was still open as I was frantically trying to grab my bags out of the car and before I could get away I was thrown to the ground and my leg was being run over.

I have bruises on my arm and leg and a huge burn/severe skin abrasion from where the tyre ran over me. I am currently in hospital for a suspected blood clot and possible broken leg.

For someone who has been 'pro' Uber for so long, I will never use them again. Police are currently trying to shut Uber down as they are unlicensed taxis who claim to do police checks but this cannot be confirmed as there are so many incidents like mine involving their drivers. Some states in Australia have already banned Ubering.

For those of you Ubering on the Gold Coast I will comment a screenshot of his Uber details below. Do not under any circumstances get in the car with him.
Sascha's post has been shared over 20,000 times. Uber has responded to the incident by saying that they have removed the driver in question.
"We have a strict policy to deactivate any partner that exhibits aggressive or abusive behaviour and we have removed this driver from our platform. Safety is our top priority and we will work with the authorities on their investigation. Our thoughts are with the injured woman and we wish her a full and speedy recovery."