The Facebook group "Police Officers" is an informal collection of law enforcement officers and their supporters. A few days ago, the administrators of the page made this post: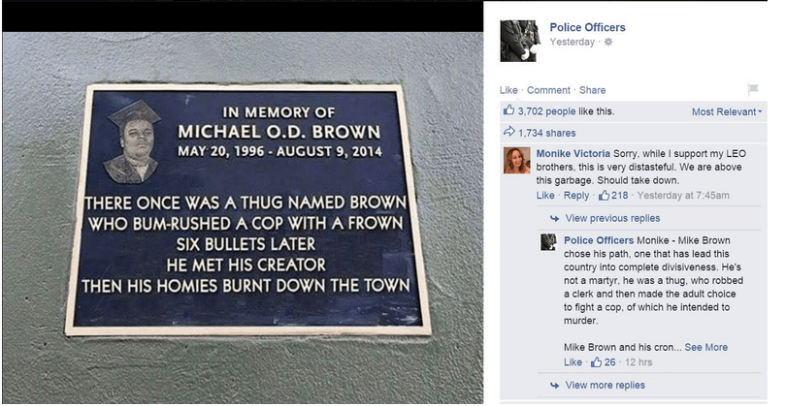 There once was a thug named Brown

Who bum-rushed a cop with a frown

Six bullets later

He met his creator

Then his homies burnt down the town
A year ago, Michael Brown was shot by Officer Darren Wilson. Some witnesses testified that Brown was shot while his hands were in the air, or while he was pleading for his life, which triggered unrest in the city. While several of these witnesses were discredited, however, later investigations would find that the Ferguson police department was riddled with civil rights violations, and that a complete overall was needed. A Grand Jury ultimately decided to not indict Officer Wilson.
No matter the circumstances, however, it to be incredibly crass and disrespectful to mock the dead. Which is why the post was met with an onslaught of opposition from posters, and it was eventually taken down. People are, understandably, still pretty upset.
Some decided to draft their own "rebuttal" poems:
Others, however, have come to the post's defense:

This isn't the first time law enforcement has made light of Michael Brown's death. About six months ago, some retired cops were caught on tape signing an offensive song celebrating his death:
I hope whoever approved that post for the Facebook page wasn't a Police Officer themselves, because whoever they are, they are a real piece of work.