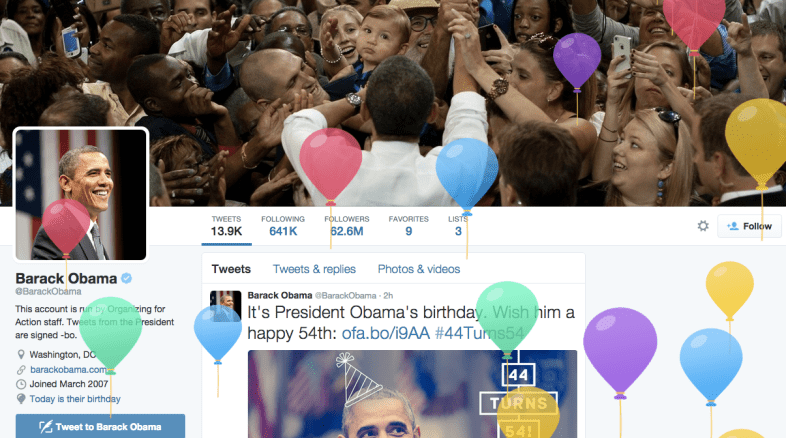 So Twitter did this special thing for President Obama's birthday, and people are just a 'lil bitter about it…
How come @BarackObama gets balloons on his Twitter on his birthday but I don't? Fuck you Obama

— Alistair Powley (@AliPJFB) August 4, 2015
Like, he's not even that special. It's not like he has some special job or anything…
https://twitter.com/_OfficialKDoll/status/628610177831337985
I have the same birthday as Obama. Why don't I get balloons on my page? Thanks @twitter 😒 #birthdayruined

— Emily (@Emmie_T) August 4, 2015
I hope on my birthday I get them lil balloons on my page like Obama lol

— Nn (@niworldd) August 4, 2015
Twitter, you might have an uprising on your hands. People really want this.
Wish I could get balloons on my Twitter on my birthday like Obama

— Trill Sammy (@TrillSammyy) August 4, 2015
I went on the Obama twitter page and balloons started flying all over my screen. That doesnt happen on my birthday. Thanks Obama

— John West (@JohnWestIV98) August 4, 2015
People are being salty.
The fuck. How does Obama have balloons floating on his Twitter for his birthday

— kb🧜🏽‍♀️ (@kyrrburrell) August 4, 2015
https://twitter.com/BethanyVolkmar/status/628605261377310721
Happy Birthday Mr. President –and enjoy your balloons, you deserve them after dealing with us for seven years!!