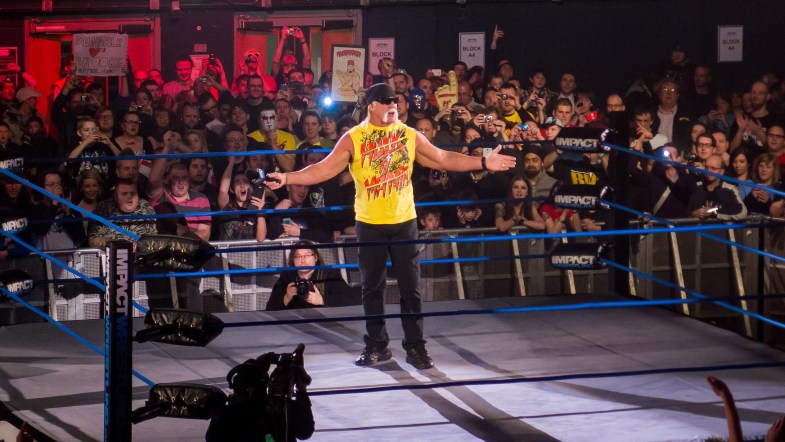 A Hulk Hogan sex tape revealed far more than just lovemaking. Portions of the video transcript leaked by the National Enquirer captured Hogan making extremely racist comments.
Hogan was angry with his daughter Brooke, who he suspected was sleeping with a black man.
"She is making some real bad decisions now. My daughter Brooke jumped sides on me. I spent $2-3 million on her music career, I've done everything like a jackass for her."
He was also upset that a "black billionaire guy" had offered to help fund her career:
"I don't know if Brooke was f*cking the black guy's son. I mean, I don't have double standards. I mean, I am a racist, to a point, f*cking n*ggers. […] I'd rather if she was going to f*ck some n*gger, I'd rather have her marry an 8-foot-tall n*gger worth a hundred million dollars! Like a basketball player! I guess we're all a little racist. Fucking n*gger."
In only a matter of hours WWE ended their contract with Hulk Hogan and stripped any mention of him from their website.
"WWE terminated its contract with Terry Bollea (a.k.a. Hulk Hogan). WWE is committed to embracing and celebrating individuals from all backgrounds as demonstrated by the diversity of our employees, performers and fans worldwide."
Hogan, on the other hand, insists that he resigned in order to spare pain to the WWE organization.
Hogan posted this tweet alluding to the mess:
In the storm I release control,God and his Universe will sail me where he wants me to be,one love. HH

— Hulk Hogan (@HulkHogan) July 24, 2015
And he also recently released a statement to People Magazine:
"This is not who I am. I believe very strongly that every person in the world is important and should not be treated differently based on race, gender, orientation, religious beliefs or otherwise. I am disappointed with myself that I used language that is offensive and inconsistent with my own beliefs."
Hogan's future is unclear, but this revelation has elicited many different responses from his fans:
https://twitter.com/jed7799/status/624626451791261696
Damn Hulk Hogan is racist as shit… I used to rip off my shirts as a kid like him, smh

— ℳark (@CuratedbyMarK) July 24, 2015
https://twitter.com/QueenMillie/status/624626393347923969
Hulk Hogan fired by WWE for racist comments on a sex tape? The images going through my mind are disturbing.

— Chris Rusbuldt (@Rastaboldt) July 24, 2015
Bye Hulk Hogan

— RhzUnam 80 (@comediamx) July 24, 2015
Shameful comments from a wrestling icon.