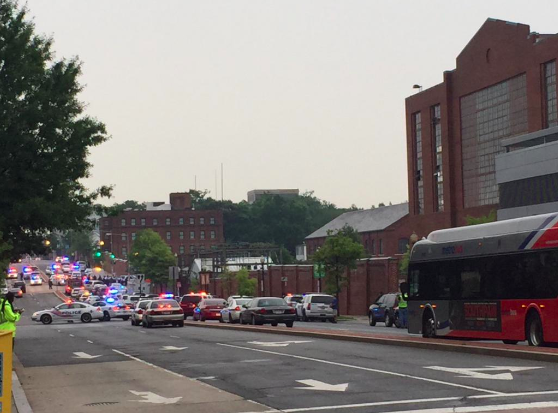 This Tweet awoke the entire world to the fact that something might be taking place at Washington DC's Navy Yard:
An unconfirmed report of an active shooter triggered the lockdown, but a law enforcement source has said that they have found no evidence of any gunman yet.
The source said the original 911 call reported a shooting on the second floor. The source confirmed that the Metropolitan Police and multiple law enforcement agencies are checking for a person with a gun in the building. (CNN)
The investigation is in progress. Individuals nearby have taken to twitter to share photos of what is currently going on:
Apparently journalists have been asked to leave the area:
Some witnesses have reported that they didn't hear any shots fired. Fox Business reports that the police are currently interviewing the 9-1-1 caller who originally reported the shooting.
We will update this story as more information comes in.
Update 10:00am EST:
Police have called an all-clear at the Navy Yard, and some law enforcement are leaving the scene.
Civilian and military staffers are said to be returning to their buildings.
This appears to have been a false alarm. It will be interesting to see what triggered the 9-1-1 call.
Update 12:00PM EST
Press conference concluded. The 9-1-1 call turned out to not be a hoax, just a false alarm. It was an extremely smooth investigation process that, thankfully, concluded there was no dander to be had.