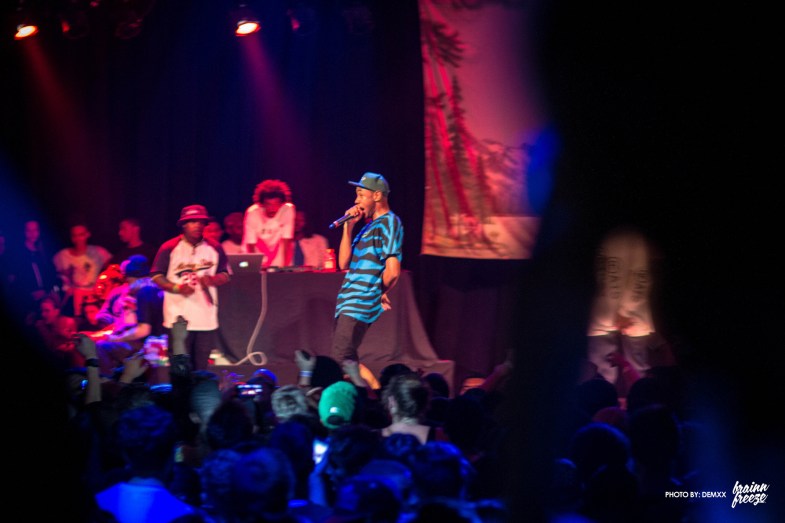 Tyler, The Creator made a stunning announcement on Twitter. He told the world that he was banned from Australia, and it was all because of feminist activist Coralie Alison.
T IS NOW BANNED FROM AUSTRALIA, YOU WON @CoralieAlison IM HAPPY FOR YOU <3

— Tyler, The Creator (@tylerthecreator) July 27, 2015
In response, Tyler's "fans" inundated Alison's Twitter account with death threats, rape threats, suggestions to commit suicide, and other absolutely disgusting shit.
https://twitter.com/xDecani/status/625929504633057280
@CoralieAlison Use Code Keem for 10 percent discount on bleach bitch i oreded it for u allready it should be there in 2 days welcome

— Sprezzyyy (@iSprezzyyy) July 28, 2015
https://twitter.com/BegleyJared/status/625928913907269632
https://twitter.com/aaronboy31098/status/625929119239270400
Storify also captured these nasty tweets from users who were deleted or suspended by Twitter moderators:




And taken as-is, this is all pretty disgusting. But there is actually a twist: Tyler, The Creator isn't banned from Australia at all. It was a total lie.
"With respect to media reports that Tyler, The Creator's visa has been refused, Frontier would like to advise that this is not the case," Frontier Touring confirmed in a statement (Guardian).
The organization that Alison works for, Collective Shout, has filed a petition to have the department of immigration deny Tyler's visa application on the grounds that he is a "controversial applicant," whose, "presence in Australia may, because of their activities, reputation, known record or the cause they represent and propagate, vilify or incite discord in the Australian community or a segment of that community, or represent a danger to the Australian community or a segment of that community." But the government hasn't given an answer on the request. As far as anyone knows, the show is still on.
The request was made, in part, because of Tyler's sexist rant toward Collective Shout employee Talitha Stone the last time he performed in Australia. He dedicated a "song" to her, entitled "Bitch Suck Dick," which included the "lyrics," "You dead bitch, I'm hot as fuck […] Punch a bitch in her mouth just for talkin' shit."
Tyler's misogynistic lyrics are known to make light of sexual assault and rape. And while I'm not sure I would support a movement to have his visa revoked from anywhere, I certainly would never pay actual money to listen to any of it.