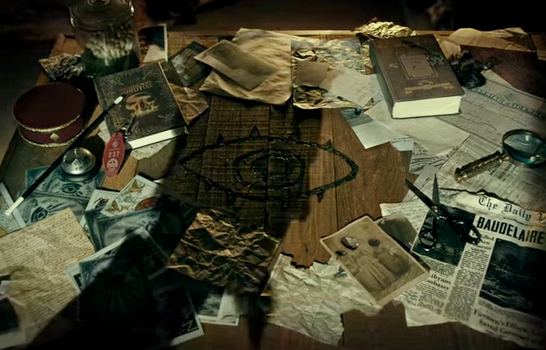 Last fall Netflix announced that they were taking on a reboot of Lemony Snicket's A Series Of Unfortunate Events. Then, just a few days ago, we thought we were getting our first taste of the new incarnation with this teaser:
It was an extremely tantalizing trailer, but Netflix says they don't have any idea where it came from, because it wasn't from them.
The trailer is extremely detail oriented, alluding to numerous places and events in Snicket's thirteen book series. Props include a map of Lachrymose lake, an article from the fictional The Daily Punctilio featuring the Baudelaires, the Nuptial Law book, and a book on mushroom minutiae.
The trailer also had an extremely convincing variation of the Netflix logo at the conclusion, making it look extraordinarily…real. Whoever did this, well done, but why did you have to toy with our emotions like this?!?!