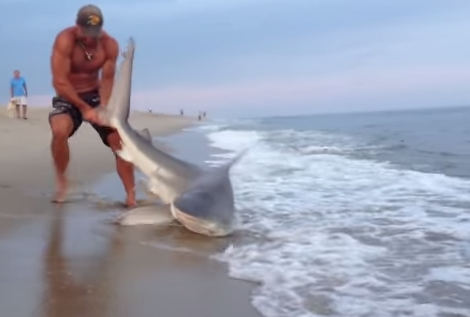 In 2013, Elliot Sudal was in this viral video that showed him catching a shark with his bare hands:
The group hooks the shark with a fishing line, then Sudal drags the shark out of the water with his bare hands and pulls it onto the shore. He maneuvers the shark several times after that around the beach. After taking pictures, the group is said to release the shark back into the ocean.
Reaction to the video ranged from "wow this dude is crazy" to "this guy is harassing animals for no good reason".



Well, it turns out that Sudal is at it again! He recently posted pictures on Instagram that show him pulling a shark out of the ocean and posing to take pictures with it.

https://instagram.com/p/42meYxCplQ/?taken-by=acksharks
This guy REALLY likes wrestling sharks, apparently.