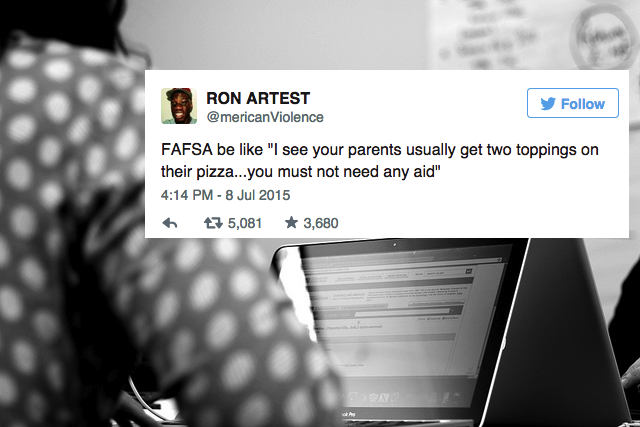 Filling out the FAFSA — the Free Application For Federal Student Aid — is almost a rite-of-passage for millennial college students. Each year we take a pilgrimage to FAFSA.edu.gov, realize we've again forgotten our PIN, and spend the next nine hours of our life crying and filling out page after page to disclose exactly how poor we are.
And then when we finally get our financial "award", we weep again, because just like with the cute boy who never texts back, it someone just never works out.
To console our heavy hearts, here are 14 hilarious tweets that will fully embody every frustration we have with our much-beloved FAFSA.
1.
FAFSA: "I see you didn't order off the dollar menu that one time. No aid for you."

— Spencer Althouse (@SpencerAlthouse) July 13, 2015
2.
https://twitter.com/SpendMyDollar/status/620370096171667456
3.
fafsa be like "Oh I see you got some change from the tooth fairy back in 1998, we're gonna go ahead and award you $0"

— moe (@Welcome_2Moes) July 10, 2015
4.
https://twitter.com/mericanViolence/status/618875759466315776
5.
FAFSA be like, I see your youngest brother has a lemonade stand… $0 for you.

— Mary Sass (@svnnhsweetheart) July 8, 2015
6.
Too rich for FAFSA, too poor for college tuition.

— Choc. ✨ (@njlavish) July 7, 2015
7.
If you don't believe in the devil then you haven't been introduced to FAFSA or UMHB financial aid lolz

— Justin Brumfield (@Coach_Brumfield) July 7, 2015
8.
https://twitter.com/Manstagram_/status/618116979665301504
9.
spending 3 hours correcting FAFSA so they can give me $2 per semester.

— Emily Bishop (@emilysbish) July 6, 2015
10.
https://twitter.com/Yahsminayeee/status/617917940491378688
11.
https://twitter.com/Jschulz15/status/617056966305783808
12.
Dear FAFSA,
BBHMM.
Sincerely,
College Students Everywhere

— asè🕊️🙏🏾 (@Scandalous49) July 3, 2015
13.
https://twitter.com/hopeaaron/status/617008955437379584
14.
https://twitter.com/Jared_Bowling/status/620602191213142016
The struggle is so so real.