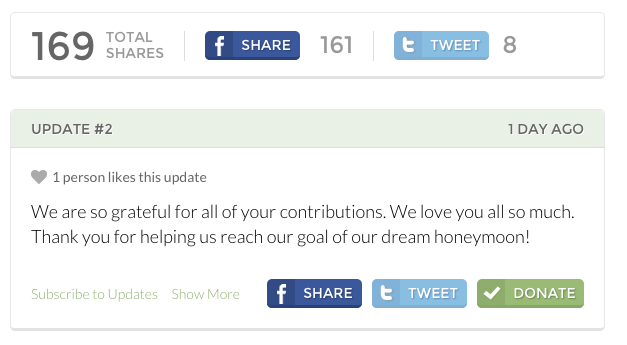 Dylann Roof was the infamous shooter in the tragic Charleston shootings that left nine dead. During the drama and chaos that came after his capture, his sister Amber and her fiancee chose to cancel their wedding.
Then they came up with the brilliant idea of having the public help pay for a new one.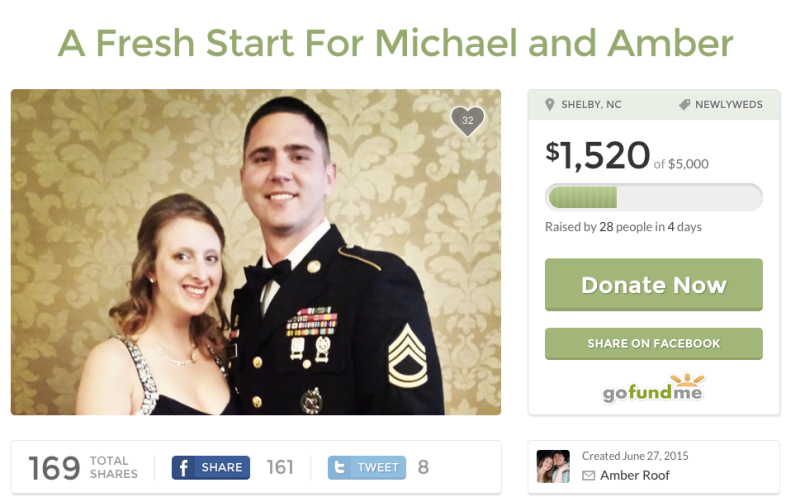 They set up this GoFundMe were they explained their problem and asked for public support in financing a new wedding and a "dream honeymoon":
Dear Family & Friends,

As many of you know Michael and I had to abruptly cancel our wedding day, due to the tragedy that occurred in Charleston. June 21st was suppose to be the happiest day of our lives. It is the day every girl dreams of, it was the day we dreamed of. We had each other, we have the perfect venue, and we had our vows ready to be read. We were ready! We had planned out every detail for months and months. It was going to be the PERFECT day!

Our wedding day was suppose to be the most important and special day of our lives. It was suppose to start our lives together with our new family. Our day was the exact opposite. Our wedding day was full of sorrow, pain, and shame, tainted by the actions of one man.

The Charleston Massacre took place and our lives were forever changed. The media abused our privacy and published all of our wedding information and destroyed our dream day. Destroying the first day of Michael and my life together.

We cancelled our wedding to protect our family and mourn the lives of those lost. Many friends and family members came into town and took time off of work to be there for us. We could not ask you to do that again.

We would like the chance to start our lives on a postive note. Therefore, we have decided to start a Go Fund Me account. We know money cannot replace the wedding we lost and our perfect day, however it will help us to create new memories and a new start with our new family.

Money raised will be used to cover lost wedding costs, to pay bills, and to send us on our dream honeymoon. 10% of all funds raised will be donated to Emanuel African Methodist Episcopal Church. We thank you for any contrabution you can make.

Our lives have been forever changed and touched by all the love and support you have shown us through this difficult time. THANK YOU FROM THE BOTTOM OF OUR HEARTS! GOD BLESS!

Love, The Tyo's
Other news outlets estimate that the GoFundMe raised about $1,700 before it was taken down.
UPDATE: GoFundMe removed for sister of Charleston shooting suspect who asked for donations http://t.co/DaHVV4rMCP pic.twitter.com/eWMEefAhmz

— FOX 5 DC (@fox5dc) July 2, 2015
People reacted to this revelation on social media:
Amber Roof (Dylan Roof's sister) has set up a gofundme page for her canceled wedding… literally the most tactless thing she could do.

— zach 🇳🇬 (@zachoeo) July 2, 2015
https://twitter.com/BBCandice/status/616673881303187457
An appalling thing abt the Amber Roof wedding fundraiser: giving the victims' families 10% of the $5k. $500 for 9 families. How generous.

— stacia l. brown (@slb79) July 2, 2015
https://twitter.com/EmmDeeAre/status/616648884589305856
And while I won't join the chorus of people unilaterally condemning her, it was an extremely tactless move that was not very well thought out. I do not think she is a terrible person, posturing herself as a victim after what TRUE victims have gone through all the hands of her brother was outrageous.
If this is about a wedding, go get married at the courthouse and call it a day. We aren't funding an elaborate honeymoon, sorry not sorry.

Correction: This story previously indicated that the page was taken down by GoFundMe administrators, but in actuality we have no confirmation whether the administrators, or Roof herself, removed the page.