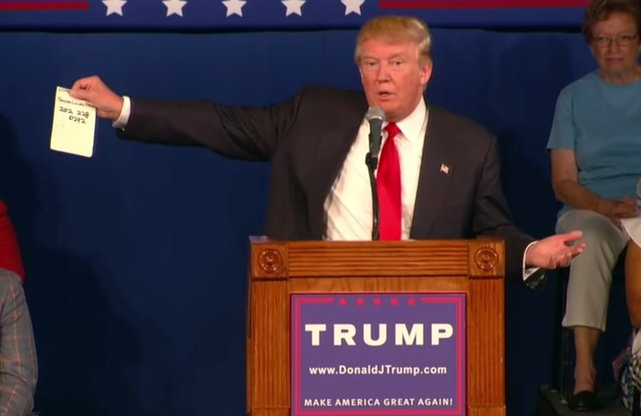 At a recent campaign stop in South Carolina, Donald Trump started talking about one of the state's Senators: Lindsey Graham. Senator Graham has slammed Trump in recent days for his statements regarding Senator John McCain. Ya know, the ones where Trump doubted McCain's heroism because he was captured in the line of duty.
In response, Trump decided to hit Senator Graham in the jugular. He detailed an incident "three or four years ago" where Graham called him to "beg" for Trump to put in a good word for him with "Fox and Friends." Graham gave Trump his cellphone number — assumedly to communicate about that favor.
Trump, in the middle of his never-ending cul-de-sac of a speech, decided it to be an appropriate time to rattle off Graham's personal cell phone number.
He gave me his number and I found the card! I wrote the number down! I don't know if it is the right number, let's try it! I dunno, it was three or four years ago, so maybe it's an old number! I dunno, give it a shot! Your local politician! He won't fix anything, but at least he will talk to you!
Was this sh*t real?
Unfortunately, yes.
.@CBSNews can confirm that the number Trump just read out on stage in South Carolina is Lindsey Graham's cell number.

— DJ Judd (@DJJudd) July 21, 2015
For what it's worth, Senator Graham seems to be taking it in stride:
Probably getting a new phone. iPhone or Android?

— Lindsey Graham (@LindseyGrahamSC) July 21, 2015
Watch an exert of Donald Trump's v. v. v. weird campaign speech below:
I just can't even anymore.