Another day, another weird social media "gaffe" from Donald J. Trump.
This "retweet" was recently posted to this account.
https://twitter.com/realDonaldTrump/status/620914834503278592
Now, instead of actually pressing the "retweet" button like a normal user, Donald Trump prefers to post a whole new tweet essentially quoting the content he wants to share with his network. So, Trump is promoting a tweet where, apparently, user @Marta_AQT4U says,
"Obama – just retire I'm ready for a real Leader !! #Trump2016 @realDonaldTrump Please Hurry up and Get to The WHITE House !"
You might have already seen what the problem could be.

There seems to be a bizarre emphasis on the word "white". Maybe @Marta_AQT4U just really likes the color white for some totally non-racial reason, or maybe that user was suggesting that a black man doesn't belong in the "White House."
The story only gets weirder, because @Marta_AQT4U, the person Trump claims to be quoting, says that she is from Colombia (??).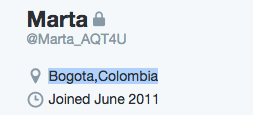 So in tune with the rest of Trump's Presidential campaign, this whole thing is kind of bizarre. The tweet appears to have some serious racial undertones, and broadcasting that message isn't going to do much of anything to make "America Great Again."