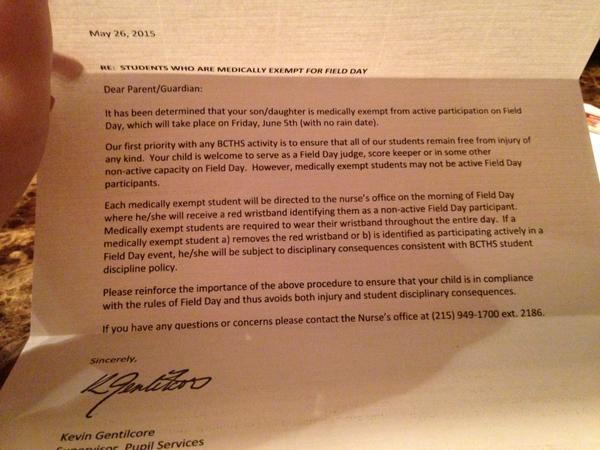 One of the strongest people you'll read about on the Internet this week is confined to a wheelchair.
14-year-old Jake Wesley had a nasty taste in his mouth after reading a letter from his school that barred him, and over 60 other special needs students, from participating in field day activities. The school forced all special needs kids to be "tagged" with a red wristband from the building nurse, and then sit out from all field day activities. If any student attempted to remove said wristband, or participate in any activities, they would be subject to "disciplinary action".
Jake knew that someone had to speak up, and he posted a picture of the letter on Twitter and rightfully labeled the school's restrictions as discrimination:
I'm jake I attend bucks county technical high school and received this letter that I believe is discrimination. pic.twitter.com/H12SRDZqHR

— Jake wesley (@AppleMan0608) May 30, 2015
And then something happened that is quietly remarkable. The school admitted they made a mistake.
"My first reaction was we made a mistake and it needs to be fixed. I'm happy he brought it to our attention, because again, we were wrong," Dr. Leon Poeske, the school's Administrative Director said.
A policy that had been in place for years was immediately swept away. School officials have openly told the press that they need to do more to accommodate special needs students during events and special activities.
"He's always been a strong advocate for himself and for other kids with disabilities," says Jake's father Keith.
Jake has Duchenne muscular dystrophy, which causes muscles in the body to weaken over time. There is no cure, and his expected lifespan is shortened considerably. Despite his physical obstacles, Jake had no problem striving to make a difference in his school and in his community. So, the next time we think we are too busy or too overwhelmed to confront the everyday injustices we see around us, maybe we should take a page out of Jake Wesley's book, and dare to advocate for our fellow human beings.
Or maybe, the next time we are called out on doing something wrong, we should take our cues from Bucks County Technical High School, and admit that we screwed up. We could apologize, and work to fix it. Instead of caring about looking good, we could care about being good.
tl:dr? If people behave more like this, there is a better world coming soon to a theatre near you.