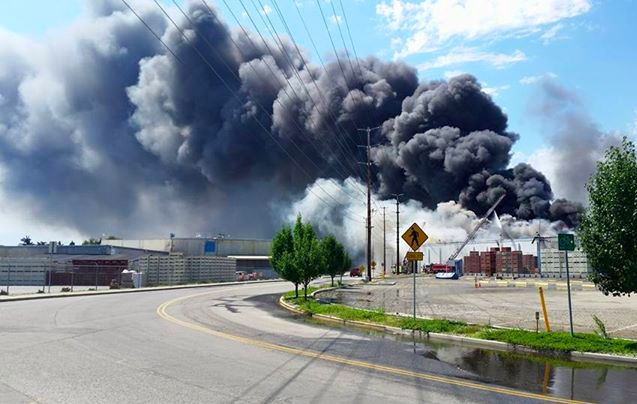 Over 1000 people were forced to flee after a wildfire spread into a Wenatchee, Washington town two days ago. Four commercial buildings were burnt to a crisp, and evacuation notices were posted for hundreds of homes.
One of the buildings burnt was a Blue Bird warehouse that stored large amounts of ammonia. According to ndhealth.gov, When ammonia is in the air it can cause burning of the eyes, nose, and throat. With high enough doses, individuals begin to choke and increased exposure can lead to death from a swollen throat or chemical burns to the lungs.
Because of the imminent health risks, residents were ordered to shelter in place.

According to the store manager at a Wenatchee Sonic, employees began exhibiting symptoms of ammonia exposure. For those not familiar with the chain, Sonic employees bring customers their food while on roller-skates. This obviously means employees spend a great deal of time outdoors, which is perhaps not advisable if there is a poisonous gas in the air.
The store manager, Brady Mason, wanted to close the store down immediately. According to Mason, his boss "Trevor" refused to close down the store and told him to "keep serving customers on the patio". Trevor warned Brady that if he attempted to close the store, he and anyone else who left would be immediately fired. He decided to put the health of his employees first, and defied his boss by closing the store. He was then terminated from his position.
Here is Mason's post on the Facebook page of a local media outlet:
Residents were outraged, and rallied to Brady Mason's support on social media:



He even got offered a new job!
The Facebook page of the local Sonic was apparently so inundated with negative comments, that it shut down according to one user. Now the issue has made it way to corporate Sonic's Facebook page, and Sonic promises that it is looking into the situation:
But this story might not be quite what it seems. Before the Wenatchee Sonic deleted their Facebook page, they issued a defiant statement that seemed to contradict everything Brady Mason had claimed in his posts.
A Facebook user provided the text their post on the Wenatchee World thread:
We have no evidence that this was ever on the Sonic's official Facebook page, or whether this "Sarah Coomer" is a representative of the store.
Some people have been skeptical about this "explanation". While the statement claims the fire at a store across the street began at 10:00pm, one user stated that it actually began at 9:00pm, so an appropriate evacuation should have been much sooner than 11:00pm.
Others, however, have begun to speak out against Mason and his version of events.
A string of very interesting accusations came out after a user posted a negative customer review of the store due to the incident:
Some other dissenters starting speaking up in the Wenatchee World Facebook page as well:
So what's the true story here? A brave manager standing up to a money-grubbing corporate boss, or a sleazy opportunist who abandoned ship and now wants to grab a buck?
I am currently inclined to give Brady Mason the benefit of the doubt, seeing as his version of events lines up closer with the facts of the incident. That being said, I'll be on the lookout for any new evidence or testimony that change my mind. I'll update this post if I find anything out.