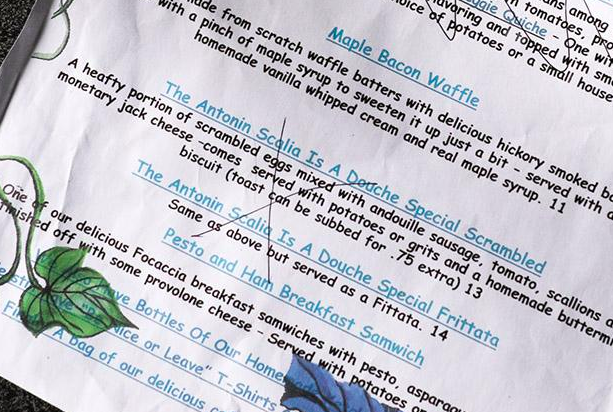 Ever disliked a public figure so much that you wanted to eat a breakfast special that derides them??
Well, that is exactly what you could have done at Sam's Morning Glory Diner this past weekend. The Philadelphia-based restaurant was apparently miffed at Justice Antonin Scalia's melodramatic dissent in the ruling that legalized same-sex marriage, and decided to fuel their feelings into a scrumptious breakfast dish.
The special was a huge hit, so much so, that it sold out in only two hours. It was the diner's all-time best seller:
"People were just loving saying it — 'I'll have the Scalia Is a Douche, please'," the owner Carol Mickey said.
The diner also offered another special, "The Supreme Court Finally Got It Right" quiche, which didn't last much longer before also selling out.
Eat up!