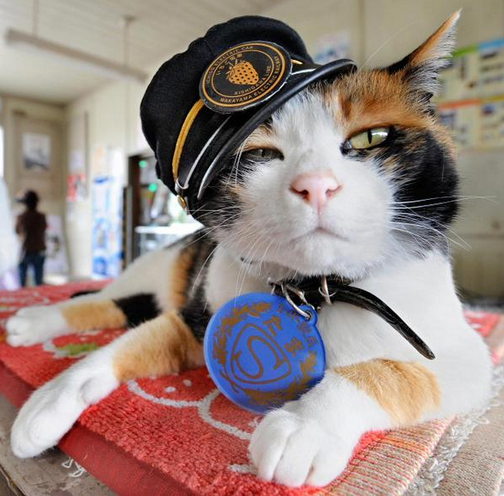 in Japan was struggling to remain profitable in 2007 when Tama the tabby cat was appointed Stationmaster.
Suddenly things began to turn around.
The notion of a cat serving as a stationmaster seems pretty bizarre, and other people thought so too. Tourists flooded to the station to see a black tabby cat dressed up with a custom-made black uniform cap.
People would pose with the cat, and be eager to get a photo with her.
Since the cat's appointment, the Kishikawa line was said to see an increase of 200,000 passengers a year.
Sadly, on June 22nd, Tama passed away from heart failure.
No expenses were spared in honoring her with an elaborate funeral that over 3,000 Japanese attended. Mourners are said to have brought both flowers and canned tuna.
Tama was elevated as a Japanese goddess in the funeral, and the company President has promised that she will be entombed within a cat shrine near the railway station.
According to The Independent, it is estimated that Tama's presence at the railway contributed $8.9 million to the area's economy. Another cat it said to be currently in-training to take over Tama's Stationmaster duties.