Carter Reynolds is a "Vine celebrity" who has been made famous through the social media app, Vine, which allows users to create short segmented videos.
But it isn't funny videos, but rather his personal conduct, that has Reynolds in some hot water today.
A video has recently emerged that shows Reynolds trying to pressure his ex-girlfriend, Maggie Lindemann, into performing oral sex on him with a camera rolling.
"I don't think I can," she says, but Reynolds pushes her, asking her to just "do it," and to "pretend like the [camera] isn't even there."
Lindemann says multiple times that, "I feel uncomfortable," and that, "I don't know if I can…, but Reynolds didn't relent. The video ends with Reynolds saying, in an exasperated tone, "Oh my gosh, Maggie,"
The internet has exploded with feelings about this incident:
How can people defend @carterreynolds what he did was beyond wrong.
He's a human being yes and I know people make mistakes but

— alondra (@alnnndra) June 23, 2015
@carterreynolds I always will support you no matter what, nothing can stop this

— ani atsushi kinnie (@yutarlert) June 23, 2015
Leading up to his statement, Reynolds alluded to the trouble that was brewing on social media:
I'm going to explain everything but I want to talk to everyone involved first.I want to make sure u know the full story about what happened.

— Carter Reynolds (@carterreynolds) June 22, 2015
my twitter account has been hacked so sorry for any random tweets that are posted. we're working with twitter

— Carter Reynolds (@carterreynolds) June 22, 2015
I've been thinking about what to say all day, and I finally figured out the right words to say it.

— Carter Reynolds (@carterreynolds) June 23, 2015
And one of his latest tweets has spawned some pretty sassy comebacks on Twitter:
shoutout to the people who are so understanding and are not making false accusations and blowing things way out of proportion

— Carter Reynolds (@carterreynolds) June 23, 2015
@carterreynolds shoutout to the guys who actually stop when a girl says no and doesn't pressure her and make her feel bad

— peigh❁ (@CaniffsCondoms) June 23, 2015
UPDATE: He recently posted an explanation on Twitter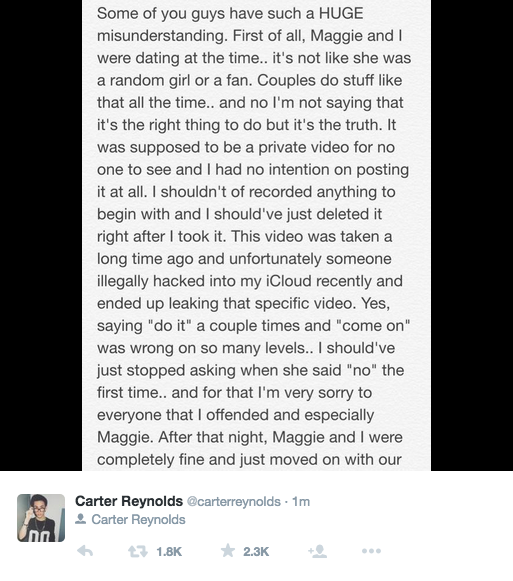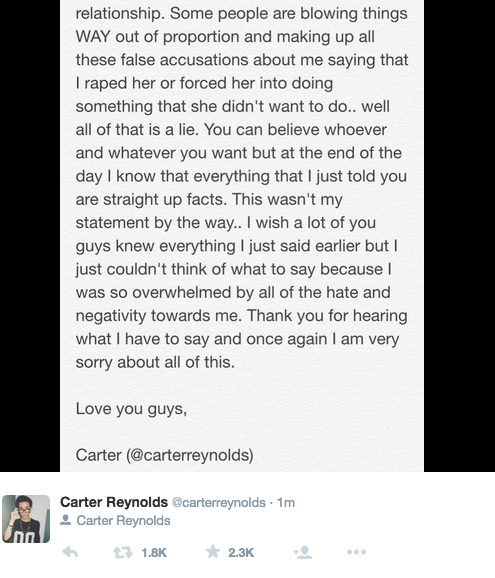 Initial reaction was mostly negative:
@carterreynolds "love you guys" who….

— sophie (@sophnics) June 23, 2015
Updates added as they come.