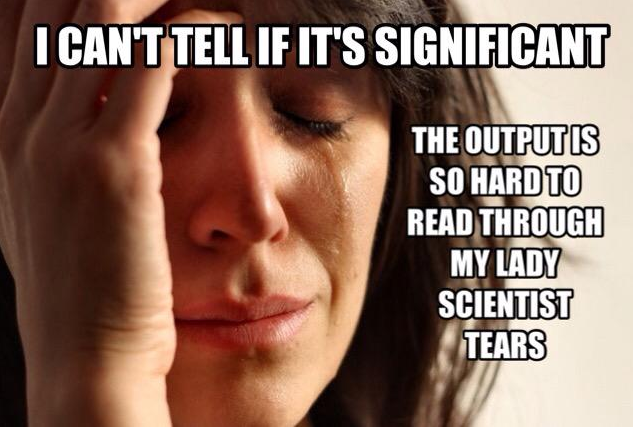 Nobel Prize winner Tim Hunt was all too eager to tell us about what the problems were with girls in science. According to him, only three things happen when women work in a science laboratory:
You fall in love with them
They fall in love with you
They cry when you criticize them
His remarks were made at a conference of science journalists, and they were rightfully called out as extremely sexist. Hunt subsequently resigned from his position as an honorary professor, but not before inspiring Vagenda Magazine to issue this challenge:
Call for all female scientists to upload pictures of themselves at work with the hashtag #distractinglysexy

— The Vagenda Team (@VagendaMagazine) June 10, 2015
Many female scientists have already answered the call:
having fun during #fieldwork on Vulcano a few years ago, now I realize I was being #distractinglysexy … my bad pic.twitter.com/cNvYYhsQ3R

— Dr. Norah Brown (@norahebrown) June 12, 2015
Some call me a dirty girl, some call me a soil scientist. #distractinglysexy #womeninscience pic.twitter.com/NdkOedU2JH

— Lorene Lynn (@lorenelynn) June 12, 2015
The loud machines muffle the sounds of my cries #distractinglysexy #womeninscience pic.twitter.com/pS6oV9vLaj

— Madi (@MadisonHerbert1) June 12, 2015
https://twitter.com/LaganClaire/status/609384862890520576
Women scientists fight sexism with #distractinglysexy pictures on Twitter http://t.co/osyn881OEO pic.twitter.com/bqJh3AZ2p2

— Quartz (@qz) June 12, 2015
Thank goodness for the cold weather gear, otherwise my male teammates might have fallen in love #distractinglysexy pic.twitter.com/E54pdGJEsd

— Dr. Michelle LaRue (@drmichellelarue) June 12, 2015
Here's my #distractinglysexy contribution. Sweaty, sun-burnt & digging up a suffragette's trash :) #womeninscience pic.twitter.com/t6aVlyvkIR

— 🌈 Jessica Marzipan ✊🏼✊🏾✊🏿 (@JessicaMarzipan) June 12, 2015
Still #distractinglysexy at 60! I like working in contaminated marshes, because the salty water disguises my tears! pic.twitter.com/4EnjH9tSZC

— Jennifer Pournelle (@jpournelle) June 12, 2015
I did an entire Liver Transplant without crying or falling in love. #distractinglysexy pic.twitter.com/6RdApuzFo9

— Tiffany Anthony MD (@drtanthony) June 12, 2015
#DistractinglySexy hazmat glamour selfie. Fortunately the full face respirator hides my tears. pic.twitter.com/Sb7dXUbfwA

— Sarah Loney Mark (@mauisadie) June 12, 2015
I fell in love with the microcentrifuge… typical woman in the lab. #DistractinglySexy pic.twitter.com/JFXZPrjWgv

— Point Mutation (@Point_Mutation) June 11, 2015
What a great reminder to our daughters that they can, and should, chase their dreams and go into whatever career field they want.