Death. A morbid subject for any age, it always offers a sense of fascination. I grew up spellbound by the rituals of death, reading the obituary section first of a newspaper and bringing alcohol or flowers to leave respectfully by my deceased ancestors graves (I later learned the items were often stolen and resold). Some graves and tombstones are made iconic by the said-dead-person's devotees, while others are made memorable by the wishes of the deceased. So, here, is a list of graves you should visit while you're still alive (I kept it short, just in case…).
Oscar Wilde at Père Lachaise Cemetery (Paris)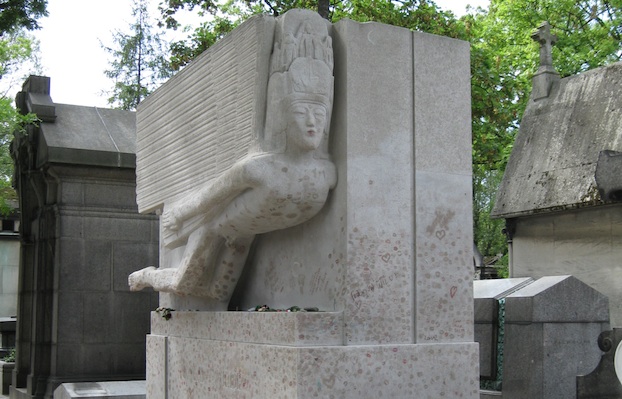 Born: Oct. 16, 1854
Dead: Nov. 30, 1900
Cause of Death: Meningitis due to Ear Infection
What to Bring: Lipstick
An Irish writer, Wilde died a poor man in a cheap hotel in Paris where apparently he told his friends, "Either this wallpaper goes, or I do." Classic Wilde. Deceased on November 30, 1900 due to complications of meningitis, Wilde was originally buried in Bagneaux Cemetary. Later, he was moved to Père Lachaise Cemetery, where a commissioned tomb designed by Sir Jacob Epstein was placed. The angel carved on the tomb originally contained male genitals that were castrated, multiple times.
Decorated with lipstick kisses, upon first look it resembles something like a cosmetic store sample counter. Wilde admirers and myth believers pucker up, some believing that kissing the tomb will bring them luck. I kissed it; I'm still single.
Born: Dec.8 1943
Dead: July 3, 1971
Cause of Death: Apparent Heroin Overdose
What to Bring: Joint/Cigarette/Alcohol
Jim Morrison was the smoldering, sexy, bad boy singer/songwriter/poet of the American band The Doors. Named after Aldous Huxley's book The Doors of Perception and about the author's own experiences with drugs, heroin ironically was the source of Morrison's death in Paris in 1971.
Alongside Jimi Hendrix and Janis Joplin, Morrison is an inductee of the 27 Club: musicians who deceased at the age of 27. Like Wilde, Morrison was living in Paris at the time of his death and was buried in Père Lachaise Cemetery. In contrast to Wilde's tomb, Morrison's grave is tame and has been relentlessly vandalised.
A meagre fence protects the stone grave, where many artists and fans following signs on other people's graves go on pilgrimages to the site to "light a fire" and smoke a joint or cigarette in honor of the great musician.
Born: March 11, 1952
Dead: May 11, 2001
Cause of Death: Heart Attack
What to Bring: Pen
While Jim Morrison fans head over to his grave to smoke pot, Douglas Adams' fans head to Highgate Cemetery in London to stick pens in Adams' grave.
Adams perfected the science-fiction meets comedy writing genre. Author of the The Hitchhiker's Guide to the Galaxy and the popular UK series, Doctor Who, Adams also penned several other novels and created a computer game.
An outspoken atheist, Adams was buried in the East section of Highgate in London. Last week marked the ten year anniversary of Adams' death and a thin gravestone simply reads "Writer," populated by dozens of pens.
He was the first person in England to purchase a Mac computer in 1984; do you think people will start leaving their Macs by his grave?