For many fans of the horror genre, the Halloween movie franchise is the ultimate horror classic. After four decades spent watching and analyzing Michael Myers' every frightening move, it could be said that there is nothing left in the franchise that could possibly scare or shock its audiences. However, as is the case with other film productions, there is always an endless possibility for mistakes, bloopers, and Easter Eggs to happen.
Over the years, many movies have tried to recreate the atmosphere and vibes of the original Halloween. But, none have even come close to beating this masterful slasher film. So, as the newest reboot of Halloween creeps into theaters, here are some facts that you probably never knew about the franchise:
1.
Jamie Lee Curtis was cast to play Laurie Strode only because her mother was Janet Leigh, the iconic actress from Psycho, and John Carpenter thought it would be a good PR move.
2.
Later on in the franchise, in Halloween H20, Janet Leigh made a cameo and played Curtis' secretary. Also, one of the movie scenes had her standing in front of a 1957 Ford Custom 300 with the license plate NFB 418, a tribute to the same car she drove in Psycho.
3.
Laurie Strode was the name of one of John Carpenter's ex-girlfriends.
4.
Carpenter even has a cameo in the 1978 movie. He voiced Annie's boyfriend on the other end of the phone.

5.
The same kind of cameo was done by Jaime Lee Curtis in Halloween III. She voiced a telephone operator.
6.
In the first Halloween movie, the production budget was so low that there were no special effects. The "stabbing" sounds were made by slashing a watermelon.

7.
The chilling soundtrack of the first three films was composed by Carpenter himself in less than an hour. Even though he couldn't read music, he produced one of the creepiest and most recognizable scores in movie history.
8.
The first Halloween was shot in May in southern California so the production staff had to store and re-use the same leaves for every scene.
9.
Michael's mask cost just $1.98 and it was made from a William Shatner mask that production had bought and altered. Other options included Richard Nixon and Spock.
10.
1978's Halloween is one of the most successful indie films ever made. The budget was just $300,000 but the movie earned more than $47 million in the US. Due to today's inflation, the profits would have likely been somewhere around $200 million.

11.
Initially, Myers was referred to as "the shape" because he was not supposed to represent a person. According to Carpenter he was a supernatural force and the personification of evil itself.
12.
The script for Halloween 4: The Return of Michael Myers was written in 11 days because of a writer's strike that was due to begin.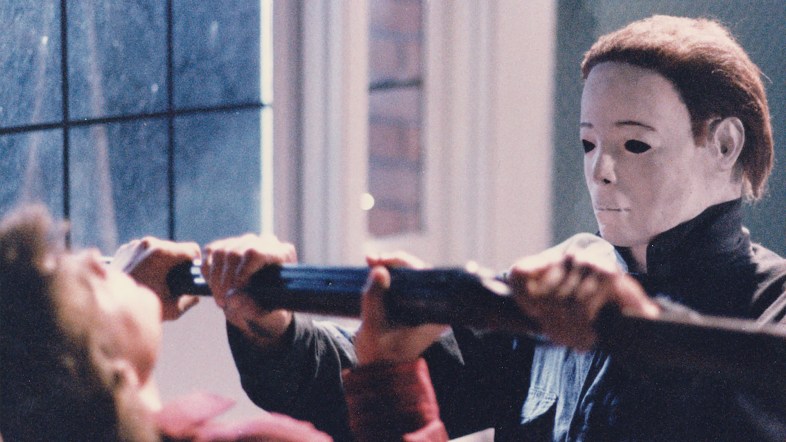 13.
In Halloween:Resurrection, actress Bianca Kajlich needed vocal back-up to be added in post-production because she was not able to scream.
14.
Carpenter was very close to directing Halloween H20 but he missed that opportunity by asking for a salary which was considered to be too high, namely $10 million.

15.
In order to not be demolished, the original house featured in the movie, now a historical landmark, was relocated in 1987 from 709 Meridian Avenue in South Pasadena, California, to 1000 Mission Street in South Pasadena.
16.
During the shooting of the 2018 reboot of Halloween, Danny McBride, one of the film's writers, was too scared to go anywhere near Michael Myers. When James Jude Courtney, the actor and stuntman who plays Myers, showed up on set to test the character's mask, McBride could not bring himself to go and meet him.

17.
The newest sequel of the franchise received John Carpenter's stamp of approval long before the script was even finalized. He was made executive producer and he was involved with the movie's production all the way.