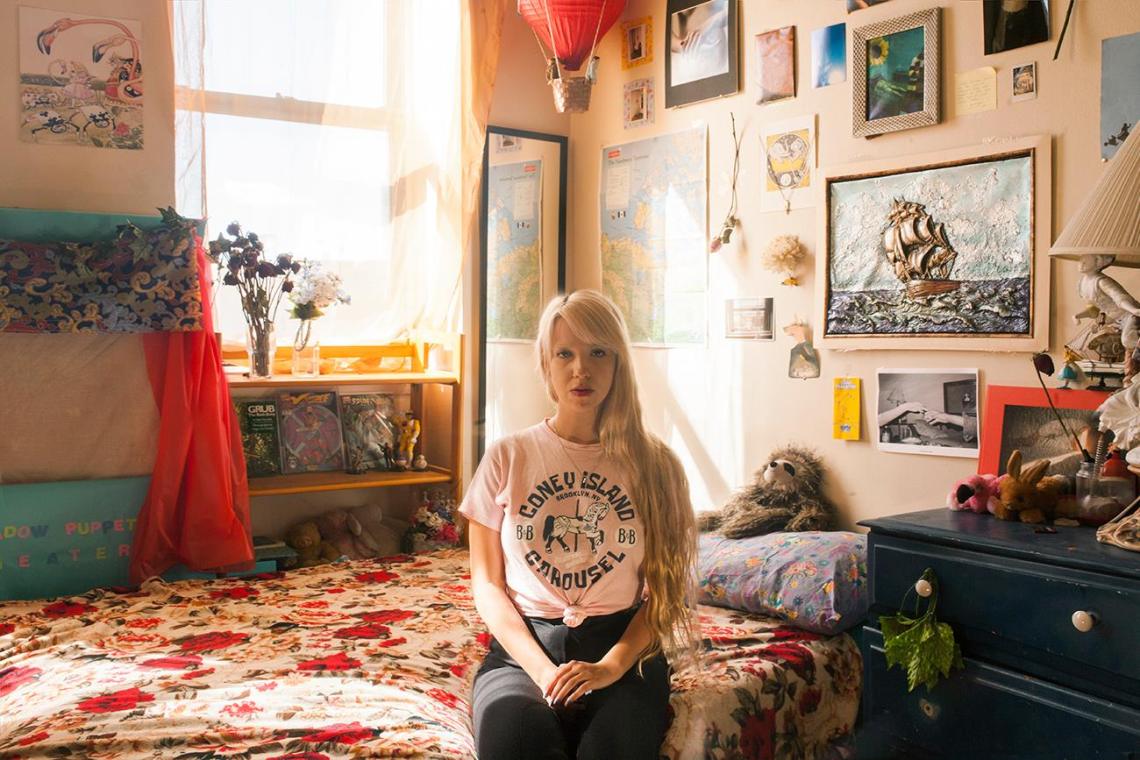 Packing is never easy.
When I look at the monumental pile of attire and objects I only gathered in one year of travel I revel at the hoarding habit we humans keep throughout a lifetime. Some of us like to preserve clothes, shoes, family albums, books, things we found on the street. Concert tickets. Fridge magnets. We have an ingénue passion for memorabilia that makes up for the dots on the map of life which we try to collect and reconnect with the passing of years. Sometimes losing these bits of who we are feels like a natural disaster. We rejoice in counting collectibles because we attach them to moments, milestones, important proof of time passing. I have a deep fear of missing out, thus I like to collect plane tickets. I like to move, and moving has taught me that, aside from my family, my never fading wanderlust and the feel of salt water on my skin, there is nothing else as precious as this freedom, which I'll always want to put in my suitcase.
Last year I switched 9 homes, packed my bags 22 times, lost several valuable possessions in random places in the world, including a bag filled with Polaroids, lipstick, cell phones, and my mind. I wrote ninety five poems and slept under the sky. I had flatmates, roommates, failed miserably to learn how to ride bikes, cars, tides or to avoid sunburn. Fell in love twice, stopped dying my hair after 11 years, and remembered I like the colour pink and bling.
My life has always fit into 3 boxes. Thus talking to Lissy Elle Laricchia, a New York based photographer who has turned her constant travels and complicated relationship with places and people into an art project couldn't have rang more close to home.
Lissy lived in a small town in Canada, between a cornfield and a tall forest, and frequently played pretend in between them. She moved to big and scary New York City at the age of 18 where she may not have a cornfield or a forest, but she still makes due in her imaginings.
Lissy's interest in photography started when she was just thirteen years old, and a friend of hers decided to tell her about this – then impossible sounding – project called "365", where she was expected to take a photo to represent every day of that year. So she took her first whirl at it, and although she failed spectacularly after about five months, from that failure bloomed a love that would take up most of her time for years to come.
The project HOME is her way to document her life in transit and will continue throughout years depicting the places she calls home in her lifetime.
My small commentaries on Home throughout the years:
2013, Age 19: I've been thinking about moving the last couple weeks. Or maybe even longer. It's been in the back of my mind since I began to recognize people on the street. I've been in this apartment for 9 months. That is the longest I've ever stayed in one place since leaving my childhood home. I'm not used to things being familiar and sometimes I feel uneasy. I've been leaving the city a lot the last couple months; going upstate with friends, taking NJ transit to Little Silver to shoot a music video, hopping on 20 hour trains to Chicago to see my love, edging ever slowly away from New York. My Home is so many different places now and with so many different people. People keep hiring me to leave. To shoot in Toronto or DC or wherever, and I used to get anxiety. Homesickness. Now I only sleep well on moving trains or with my face pressed up against a bus window on my way to see another fragment of my family. I don't need a big change, I want to move down my street. A subway stop or two away. Somewhere I don't recognize every face in my local bodega, somewhere I can continue to expand my knowledge of this city and myself and what I want and where is home and who are my friends and where am I going.
2014, Age 20: I'm going to Oregon again in 5 days. I calculated today and I've spent 4 months of the last 6 months of this year on the road traveling to little bits of my family or shooting and stressing for clients or up in Oregon with my love. What's the point of a home anymore? Why was sleeping in the living room of a foreign apartment for two months home and why was 4 hours of buses and trains upstate to see my mother speak at a conference home? Why did I cry when I left her and my brother that week more than I ever did leaving New York? When did I start calling New York my home instead of Canada my home? Why is it when I get off at Brooklyn Museum on the 3 train or Morgan or 8th Ave on the L I can feel my feet pull me to my old homes and haunts and I can picture walking down that street a million times and I can be 17 or 18 or 19 or 20 but it always feels the same? I've realized home is becoming muscle memory to me, and I've been having spasms lately.
2016, Age 22: Home really feels like home these days. Sometimes I wake up to children playing loudly in the streets or car alarms going off or the construction crew diligently tearing down the house across the street and I yearn to be in a small orange tent surrounded by forest, or on a train heading south, but mostly every step I take I feel roots sinking in but I keep tearing them free just to keep things interesting. I wake early these days, and often I lug my equipment to different parks in Queens and spin around in the woods in a blue dress and remember what it was like to be 17 and stringing up paper stars in my basement. Some day soon my childhood home won't exist anymore. I don't know if I've ever been more unsure about what Home is, or more certain of it. I've noticed as I look back on my previous commentaries for this series how frequently I mention travel as a means to understand Home. I'm not sure of the significance of this yet, but I am trying. I don't know how to ask the four walls that I've called home over the last few years to give me the same monumental joy of waking up in a new city alone and curious, and I don't think it's fair to. But I know home is wherever he is, wherever our pink and blue towels hang next to each other and I trip over his slippers going to the bathroom in the middle of the night. All I know is I've never felt as comfortable and as free in my Home as I do in This Home, so that's got to count for something.
What is it that you miss the most?:
When I look back at these photos, all I really miss are the unknowns. As I get older and see and experience more things, the gaps start filling in. This is where you live, this is where you work, this is what you do, and this is who you *are*. Two nouns, a verb, and that's your identity. I feeI like I have always rebelled strongly against this idea. Akin to why I'm drawn to travel, I'm fueled by having no earthly idea what's happening, or going to happen. I'm fueled by a loss (or maybe rather a reinvention) of identity, and I'm always slightly unsettled by the thought that each human only gets one small 'about me' on the back of their dust covers. These photos help me remember how many different selves I've had to be to become who I am, even if to the world the only noticeable differences are my location and the length of my bangs.
A short list of the most important things you carried from home to home throughout the years – that you'd never abandon
1. My stuffed bear Donkey
2. A very large painting of a ship my best friend from home bought me before I moved away
3. Every crown I've ever owned (6?)
4. A painting a then-stranger made of me for my 16th birthday where I'm hugging Donkey in a forest surrounded by paper stars.
Moving around a lot means sometimes leaving various possessions in different corners of the world – what did you leave behind and where?
Things are always disappearing on me. I haven't seen my favorite dress in 3 years. Sometimes I visit old friends and they hand me my warmest pair of socks, and it's like a magical gift from my past self to my present, chilly-footed self.
Does it ever get easy?:
No, but I don't think I'd like it to be. What would I make art about?