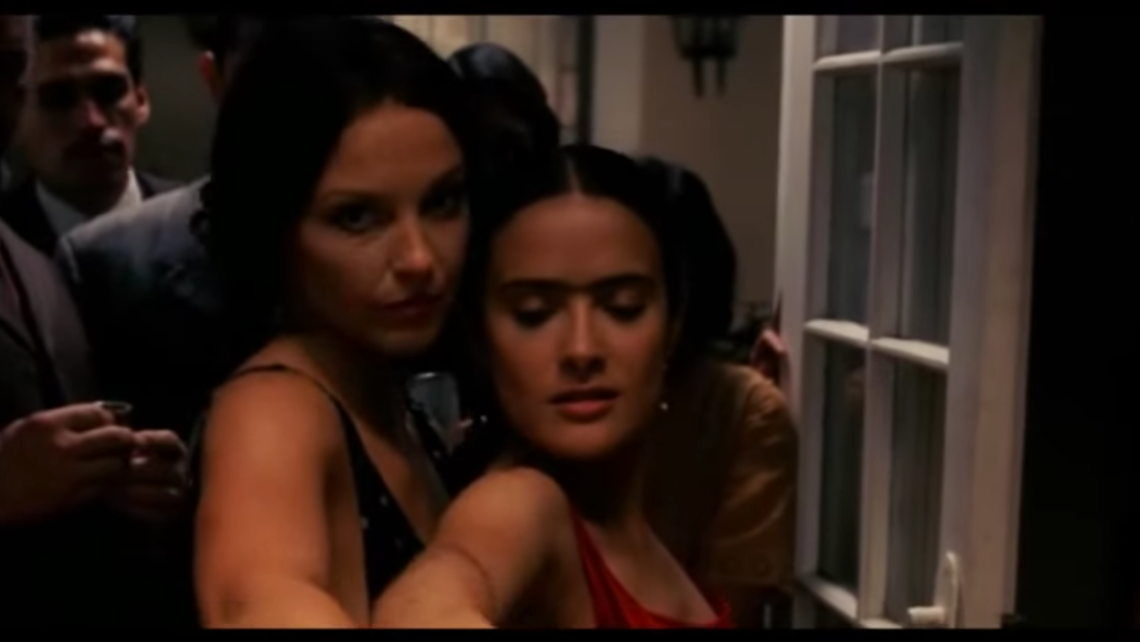 Making a list of wonderful movie scenes to inspire your love life might come off as an easy job, but there's something tricky about a relationship. Real life can be spectacular, yet it takes a vivid imagination to make a great impression. Passionate lovers enjoy the erotica, happy go-luckies cherish the fun moments, dreamers need fantasy, introverts hold dear a long embrace. Romance comes in all shapes, sizes and may strike at any given moment. There's no formula to it, if there's a will, lovers will find a way to love and be loved. We hope these scenes will inspire you, they're carefully curated to bring the best of all worlds.
Sweet November And The 12 Magic Gifts
[youtube https://www.youtube.com/watch?v=o9DGUyantOQ%5D
Keanu Reeves (Nelson Moss) meets Charlize Theron (Sara Deever), he's a charming self—centered workaholic, she's a free spirit, enjoying life by the second. By will of destiny and happenstance, between Nelson and Sara comes love at first sight. They share the month of November together and become very close, so close that Nelson wants to propose, but Sara holds a sad secret, the reason why she wants to live with a different man each month, but only one month. She decides she will not continue the relationship to protect Nelson from being hurt. Nelson complies, but then stages a surprise return during the Thanksgiving holiday, offering her 12 very personal early Christmas gifts to make her realize they should and could share the best years of their lives together. The 12 gifts scene is a great example of romantic ideas that help a couple share good warm moments.
When Harry Met Sally And She Faked An Orgasm In Public
[youtube https://www.youtube.com/watch?v=PdJm3DVg3EM%5D
This is a romantic comedy classic. What makes it so sweet is the palette of wits and emotions that encompass the relationship between Harry (Billy Crystal) and Sally (Meg Ryan). At first, the two argue whether men and women can have a strictly platonic friendship. Years later, they reconnect and become very good friends, but there's an undeniable attraction between them. One of the most famous scenes in this movie is Sally's evocative orgasm simulation in the restaurant. It can easily be re-enacted to put some spice into a relationship. It's funny, it's eccentric, it's hot. Also, there's the New Year's Eve scene when Harry declares his love for Sally. She's still mad at him until he explains all the tiny reasons why he's in love with her, finishing with, "When you realize you want to spend the rest of your life with somebody, you want the rest of your life to start as soon as possible!"
Romeo+Juliet: Fish Tank Flirt
[youtube https://www.youtube.com/watch?v=bApvA8me8q0%5D
Love at first sight is wonderfully depicted in Romeo + Juliet (1996). The classic Shakespeare play is remixed with a postmodernist twist to deliver an action-packed tragedy that will thrill and seduce you. A most memorable scene between the two young starry-eyed lovers, Romeo (Leo Di Caprio) and Juliet (Claire Danes), is when they first meet and hold flirtatious eye-contact through the looking glass of an aquarium. There's something undeniably sweet and sexy about the magnetism between the two. It encourages couples to see each other with new eyes and try to flirt with every given opportunity as if it were the last.
Notting Hill: Less Is More
[youtube https://www.youtube.com/watch?v=RESwG23_YGw%5D
The story of a famous film star, Anna, played by Julia Roberts, who meets a simple bookshop owner by the name of William (Hugh Grant) and falls in love with him. The two find themselves quite suited for each other, but their lives are very much different, Anna is a celebrity, the world's most wanted woman, William is your regular guy leading a normal life. A heart-touching scene in this movie is when Anna declares her sincere love to William, like a normal girl standing in front of a boy asking him to love her. It shows that no matter your social status, you may be someone's center of the universe.
Titanic (1997): Crash A Party Before 30 ✓
[youtube https://www.youtube.com/watch?v=erAQ9LkftwA%5D
One of the most impressive movies ever produced, the Titanic features multiple romantic scenes, iconic to the history of cinema. There's a very popular scene onboard the Titanic, where we have  Jack (Leo Di Caprio) embracing Rose (Kate Winslet) on the front railing of the ship, he grabs her arms as she extends them out and Rose says the famous line – I'm flying. For more adventurous lovers, there's also the party scene – Jack takes Rose down in third class quarters to have fun with the common people. He's a penniless immigrant, she's a wealthy aristocrat, but girls just wanna have fun and there's nothing quite as lovely as having fun on the dance floor.  One should learn some new moves to keep up. A couple should try to crash a party at least once in a lifetime.
Annie Hall: Silence Is A Blessing
[youtube https://www.youtube.com/watch?v=qLblwVUEHyw%5D
One of Woody Allen's signature quirky movies, Annie Hall is a sweet comedy filled with romantic wooings and social commentary. There's something lovely about the first timid dialogue between Alvy Singer (Woody Allen), the neurotic New Yorker, and ditzy Annie Hall (Diane Keaton). They stumble, they mumble, they fuss and fret and try to hold a decent conversation to fill a weird silence that might have ensued. What's funny about the scene is that it could happen and has happened to anybody, no matter the circumstances.
The Royal Tenenbaums: Forbidden Love Tent Scene
[youtube https://www.youtube.com/watch?v=nGhOnEmqEsk%5D
A Wes Anderson classic, this movie about a family of geniuses will definitely inspire you. It has romance, it has adventure, funny dialogue, fantastic use of colours, costumes, scenery and decor, also a great story to relate to. The secret romance between adopted Margot Tenenbaum (Gwyneth Paltrow) and her step-brother Richie (Luke Wilson) underlines the narrative of this picture. They share a safe and quiet moment inside Richie's tent pitched up in his room. The two have outgrown the little bed inside, they are surrounded by mementos from their childhood, they cherish their closeness with an embrace. There's no secret between them, they are at home.
Jerry Maguire: You Had Me At Hello
[youtube https://www.youtube.com/watch?v=zTHfZFGoXoE%5D
Jerry Maguire is the sort of movie that will inspire you to take action for that something you believe in, be it a hobby, a professional goal or your love life. Jerry (Tom Cruise) takes along his co-worker Dorothy (Renée Zellweger) when he quits his job to start a solo career in sports management. They engage in a working partnership then slowly but surely start falling in love. At the end of the movie, a most memorable scene is when Jerry expresses his love in a long-winded speech. Dorothy's reply was the simple phrase: "You had me at hello". It goes to show, the right words will definitely impress.
Eyes Wide Shut: Kissing In The Mirror
[youtube https://www.youtube.com/watch?v=nCLr_axe_Pk%5D
Eyes Wide Shut is an erotic drama film directed by Stanley Kubrik. Dr. Bill Harford (Tom Cruise) and his wife, Alice (Nicole Kidman) are a young couple living in New York. The plot revolves around kinky courtship, secret sexual fantasies, feelings of jealousy and emotional intricacies. The first scenes in the movie are as hot as they come. The couple dress up for a party, yet take the time to enjoy a hot cuddle and kiss moment in front of the mirror. It shows there's a deep connection between the two and it holds the sort of intimacy two people share behind closed curtains, away from prying eyes.
9 Songs: Sex, Toys And Rock'N'Roll
[youtube https://www.youtube.com/watch?v=N1HWcofsxJk?list=PLUwWwPhE5NjyEoQ5_aCM5Xhtn8sWzjXdV%5D
This sex drenched drama documents the social life and intense sexual relationship between Matt (Kieran O'Brien), a British climatologist, and Lisa (Margo Stilley), an American exchange student. Sprinkled with good rock'n'roll live outtakes from spectacular concerts and topped with explicit intercourse, 9 Songs is the Burning Man of all erotic feature films. The ongoing debate whether the movie is pornographic or not was eased by its somewhat educational dimension, 9 Songs remaining one of the very few commercial films that showcase use of condoms on the big screen. Its sexual buildup and legendary soundtrack (Franz Ferdinand, The Black Rebel Motorcycle Club, The Dandy Warhols) make up for a perfect way to experiment with your loved one and get frisky on good music.
Frida: Hot Tango
[youtube https://www.youtube.com/watch?v=Mc2TTctD2jI%5D
One of the most remembered scenes in Frida (2002) is not the moment the painter (played by Salma Hayek) cuts her locks and drinks in alienation, but when she persuades the tall, thin, sensual Lupe (Valeria Golino) to dance together. The moment drips with explosive chemistry, ardour and desire, making the two savour the moment in splendid surrender, and the audience feast in their unearthly moves. Take the chance to reenact this with your girlfriend or best friend at that luscious but boring party you were obliged to attend.
Great Expectations: Pip draws Estella
[youtube https://www.youtube.com/watch?v=XTV0fiup6AM%5D
When Gwyneth Paltrow strips naked in front of you, the choice of action must be quick and witty. In Great Expectations (1998), Pip (Ethan Hawke) manages to draw multiple instances of Estella, as she smokes, gazes out the window or walks slowly, like a feline, through the room. With Pulp playing Like A Friend in the scene, this moment of both tension and liberation is, in itself, a work of art. Make sure you get stacked on paper and charchoal and spill all your creativity over your lover. Well, you get it.
500 Days Of Summer And One Day Of Ikea
[youtube https://www.youtube.com/watch?v=ARoB1nWPsxo%5D
This sugary film which many adored and even more people hated for its bitter finale remains an indie cult classic. Rejoicing the references of a whole generation of hipsters, Millenials and  yuppies, featuring music from The Smiths, musings of Alain De Botton and geeky puns, the movie remains iconic for its IKEA date scene.  Summer (Zooey Deschanel) and Tom (Joseph Gordon-Levitt) make the perfect couple in love when casually strolling through the Swedish furniture store, jumping in ready made beds and making faces at customers. Their relationship turns sour soon after, nonetheless this moment stays memento that regardless of where your relationship will head in the future, today is the day to have fun together. Be it at IKEA or your local retailer's.
Pierrot Le Fou: Car Kiss
[youtube https://www.youtube.com/watch?v=9roYGIWyHsE%5D
This is a Godard French New Wave classic, filled with 1960s fashion, sprinkled with contemplations on love and laid out on bright Technicolor. Marianne (Anna Karina) and Ferdinand (Jean-Paul Belmondo) share a tumultuous love affair after running from city to city to escape the police and Mafia after collaborating in murder. Their relationship speaks volumes of modern couples' insecurities and is often questioned by one or the other character in philosophical monologues. Why are you sad? Belmondo asks a tormented Karina, only to receive the epic answer "Because you speak to me with words, and I look at you with feelings". The convertible car kiss featured in the movie's European promotion stays one of the most daring, sincere and beautiful moments in cinema, and can be easily recreated when riding bikes together.
Laurence Anyways: Runaway Lovers
[youtube https://www.youtube.com/watch?v=VzYbZr4K9Lg%5D
Xavier Dolan's surreal, dramatic and Instagram coloured film is an eclectic work of art. Featuring soundtracks from Kim Carnes, The Knife and Craig Armstrong, Laurence Anyways tells a story hard to forget (and for some, hard to digest). Laurence (Melvil Poupaud) is a teacher who falls in love with Fred (Suzanne Clément), a producer. Their young, passionate romance takes a brutal turning point when Laurence confesses his wish to become a woman. While Fred decides to stay in the relationship and cope, sometimes in despair, with Laurence's gender transformation and bullying, the couple suffers greatly from the many implications of the situation. Breaking and making up over the course of a decade, the lovers manage to experience a grand moment of bliss when Laurence steals Fred from her unfulfilling marriage and they flee to Isle Of Black. The depiction of the scene is spectacular, having the couple bounce together in slow motion in the fairy tale landscape of snow, under a rain of coloured clothes, on Moderat's A New Error. Dreamy and easy to recreate with confetti and a ventilator.
Buffalo '66: The Photo Booth
[youtube https://www.youtube.com/watch?v=0fLeBNaC9Kg%5D
Vincent Gallo plays and directs a tense and provocative comedy to deliver a love story about two weird characters that tangle their lives in a web of misconstrued premises to romance. The film follows Billy Brown (Gallo) out of prison and back to his hometown, Buffalo, NY. There he kidnaps a girl, Layla (Christina Ricci), a blonde tap dancer in a two-inch skirt with an ample cleavage, and entreats her to play his loving wife while they visit his parents. Billy needs some couple photos to show their parents and takes Layla to a photo booth to capture the images. The scene is particularly sweet because Billy is very nervous and lacks emotional expression, in contrast with Layla's sweetness and outgoing character. Altogether a heart-rending movie about the quest to find a purpose in life, love brings together two people who find solace in each other.
Moonrise Kingdom: The Rise And Shine Of First Love
[youtube https://www.youtube.com/watch?v=s1p6C2dX_2w%5D
Another Wes Anderson gem, this movie will sport your appetite for adventure. What is great about young love is the promise of happiness. Sam (Jared Gilman) is an introverted boy scout sent to camp by his foster family to develop nature skills and find friends. He meets Suzy (Kara Hayward) living in a small town near the camp, they become friends and pen-pals plotting to run away together. Once they flee, they set up camp near a lake and go swimming. Secluded from the world, they start dancing to Francoise Hardy in their underwear on the beach. Their moves bring them closer and closer and they share a tender kiss, their first ever kiss, a brilliant moment of innocent love. The kiss scene on the lake makes you want to run away with the one you love.
Mr. And Mrs Smith: A Good Old Fight
[youtube https://www.youtube.com/watch?v=bp0H3ql3XTY%5D
Couples tend to argue, they fight, they scream, they hurt, they make-up. A strong couple has had its fair share of arguments over the years. This story about one hitman and one hitwoman both hired by competing agencies to kill each other might spark some interest. We have John Smith (Brad Pitt) and Jane Smith (Angelina Jolie) going to marriage counsel like regular couples, yet we also have this full-on fight scene between them (more like a combat), one with all the makings of an action movie, also with all the benefits of making up, like sexy love making. The fired up passion between the two is irresistible. It almost feels like there's a reason why people fight, the promise of a happy ending.
The Lobster: Learning To Speak Without Words
[youtube https://www.youtube.com/watch?v=SPUmhuaxRSY%5D
Here's a scenario to show you love conquers against the odds. The film is a dystopian comedy-drama set in a near future, the story of David (Colin Farrell) who becomes single after the death of his wife. According to the laws of The City, single people are taken to The Hotel, where they are constrained to find a romantic partner in 45 days or will be transformed into animals and released into The Woods. David escapes The Hotel, reaches the forbidden Woods and meets the character of Rachel Weisz. They entertain an forbidden love relationship using only sign language. The scenes in which they gesture their feelings to each other will definitely impress. It's a story to find that hardships can be overcome, no matter the sacrifices.
Alfie (2004): A Sexy Affair
[youtube https://www.youtube.com/watch?v=ZMcnuQfd2ZY%5D
Alfie (Jude Law) is a strapping young playboy working as a limo driver, enjoying the good life from one love conquest to another, to both, maybe, at the same time. He meets a mature woman, one spicy Susan Sarandon, bored with her marriage, looking for an affair. He invites Alfie up to her room, treats him to absinthe and charms him with her endearing flair. The scene in which Alfie compliments Liz's (Sarandon) decolletage (word of the day for Alfie) earns him bonus points with the sultry temptress. It certainly helps having a new word a day calendar, coincidences can be pleasurable.