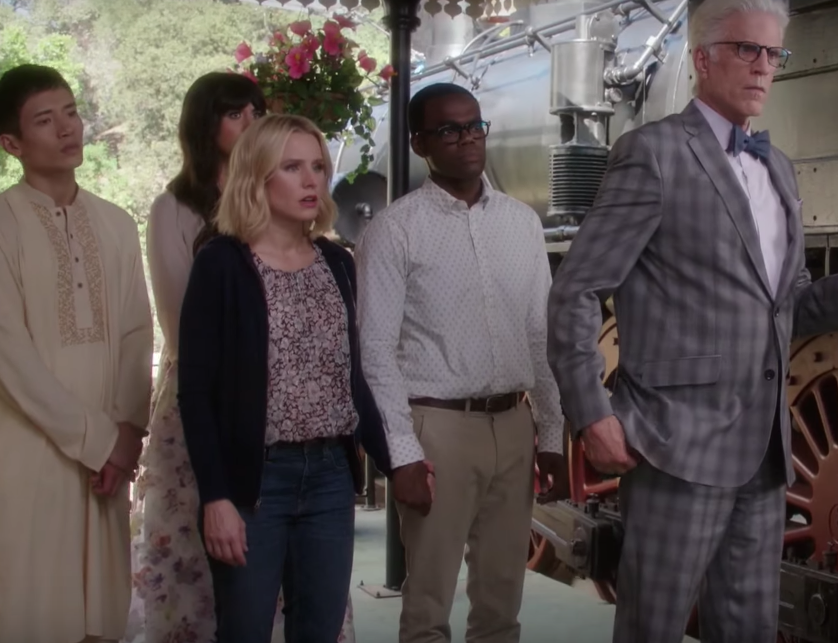 When you first start watching The Good Place, you'll assume it's just like any other sitcom. It's light. It's funny. It stars beloved actors like Kristen Bell and Ted Danson — and some (beautiful) new faces like Jameela Jamil, D'Arcy Carden, Manny Jacinto, and William Jackson Harper. 
The concept of the show sounds simple. Kristen Bell's character, Eleanor, dies and goes to the good place, even though she should really be in the bad place. We get a few flashbacks from her time on earth when she treated her friends (and everyone else who crossed her path) like complete shit.
You assume the show will be about her trying to hide her secret for five seasons and causing hijinks along the way. You assume the course of the show will stay the same because sitcoms rarely change direction.
And you would be entirely wrong.
There is a major plot twist at the end of season one — but every single episode leading up to the finale ends in a surprising way.
My bookshelf is filled with thrillers. I have watched thousands of hours worth of television. I used to work at a movie theater. I can usually predict where a storyline is headed after the first five minutes but The Good Place always surprises me. It takes risks most sitcoms are afraid of taking. It moves the plot along at a faster pace than any other show.
Even the cast was surprised to find out about the twist that comes at the end of season one. Their reactions were captured on tape.
Warning: Do NOT watch if you aren't caught up on the show. You don't want the twist spoiled, trust me. 
There have been multiple times when I paused the television because I needed to take a second to process what had just happened. I cannot count the times I have repeated, "These writers are geniuses. I'm so insanely jealous."
Of course, the actors are equally as talented. They are funny. They have impeccable timing. Even if you can't appreciate the plot twists because you prefer your storylines to be bland and predictable, you will appreciate the comedy.
Here's a blooper reel to prove the cast even makes themselves laugh. Once again, there are spoilers, so be careful about pressing play.
When you watch The Good Place, the plot twists won't be the only surprising part. You will be surprised how much you learn. About philosophy. About friendship. About how you should try to become a better person — not because it will get you anything, but because it's the right thing to do.
The Good Place blurs the lines between sitcom and drama. There are funny moments and intense moments. Moments where you're laughing at the most ridiculous lines and moments where you're wondering where the hell they are going to take the storyline next.
If you haven't seen an episode yet, hop on Netflix because you have been missing out on a television show that has redefined what a sitcom can accomplish.