You're stunningly beautiful. But it's okay if you haven't realized that yet.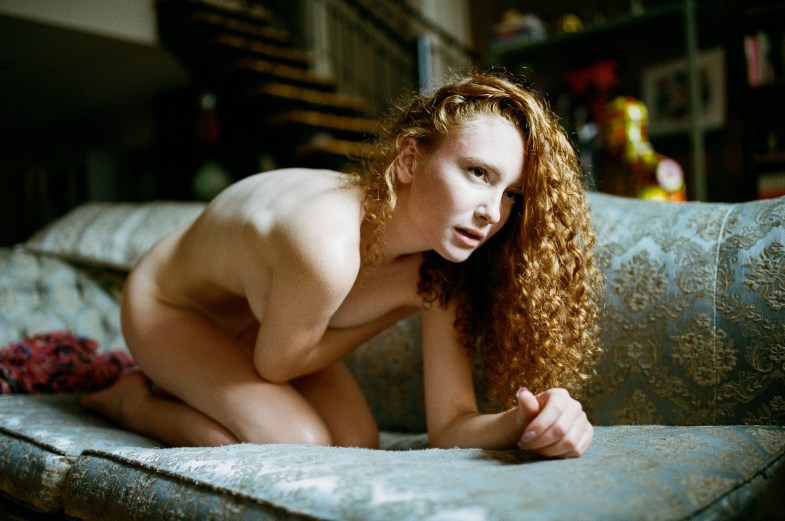 1. Keep a nude photo of yourself on your phone — one where your body looks highly fuckable. Glance at it before sex to remind yourself of how hot you are.
2. Pick positions that make you feel more attractive. If you're worried about him staring at your belly, then flip over so he can fuck you doggy style. And if you don't like your butt, then stay on your back for missionary.
3. Keep the lights off — or at least dimmed. And if you don't have a dimmer switch, place candles around the room. It'll create a romantic glow that'll make your body look heavenly.
4. Focus on his body. Instead of thinking about the way your face looks, think about how his face looks. Instead of thinking about how your moans sound, focus on how his moans sound.
5. Accessorize your naked body by wearing something you won't have to remove before sex. A necklace that'll dangle between your breasts. Cute earrings. A choker. Something that'll make you feel a little less naked.
6. Ease into sex. Get used to the way his hands feel over your shirt. Then under your shirt. Then when your shirt is off. Take as much time as you need.
7. When he initiates sex, playfully ask him why he wants it. Yes, you're technically fishing for compliments. But he should be happy to list out the reasons why you look sexy and it should be a quick confidence boost for you.
8. Buy silk sheets. When your naked body is pressed up against them, you'll automatically feel sexier.
9. Tell yourself that he's lucky to be in bed with you. That you look like a goddess. That you're going to make him orgasm hard. If you keep telling yourself these things, you'll eventually start to believe them.
10. Wear lingerie. If you're worried that your boobs are too small or stomach is too big, then the right lingerie (a babydoll) will cover up your supposed 'problem areas.' Besides, it's impossible to feel ugly in lingerie.
11. Keep on as much clothing as you'd like. You don't have to take off your shirt if you're super self-conscious about your stomach. And if you own crotchless panties, then you don't even need to remove your underwear, and can cover up your bikini stubble.
12. Put on background music that makes you feel empowered. Attractive. Sexy as all hell.
13. Find your alter ego. The girl that comes out when the sun goes down and your clothing comes off. Or just roleplay. When you're pretending to be someone else, it's easier to let go of your inhibitions.
14. Before sex, shave your legs. Spray on your flirtiest perfume. Dance around to your favorite song. Pose naked in front of the mirror. Whatever it takes to raise your confidence.
15. Only sleep with men that make you feel completely comfortable. Men that you know aren't judging your every move. Men that remind you that you're beautiful.