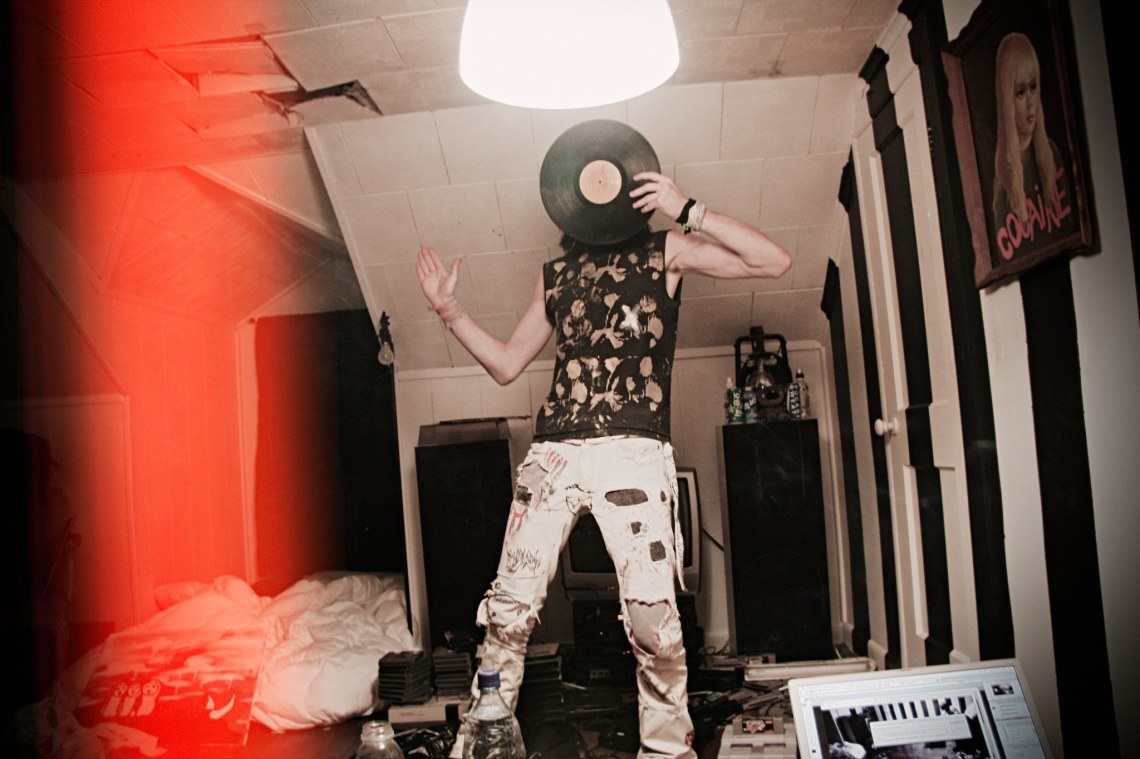 My grandmother has Alzheimer's, so when I wiped off an old vinyl record I'd found in her basement, she couldn't warn me to burn the motherfucker.
The sleeve it slipped out of was a dusty yellow with red printed words running across it: Pahat Henget. When I slid out the actual record, the center had a matching red hue, but there was only one song on it, called Demoni. Even on the flip side, there weren't any other songs listed. Just the one.
And my curiosity got the best of me.
I put the record under my arm, found my grandmother staring blankly at the TV, and asked, "Where do you keep the record player?"
Well I didn't say it. I signed it. My grandmother had lost her hearing sometime before my father was born. I don't know much about how it happened, except that she was around my age. Somewhere in her 20s.
Now she was 87 and staring at me with lost, droopy eyes. The Alzheimer's made it hard for her to remember the sign language and her arthritis made it hard for her to sign back—not that she needed to. She still had a voice. A voice I hadn't heard in a long time.
I picked up her container of Ensure and tried to get her to sip from it before giving up and searching the rest of the house for the player. By the time I found it, stuffed in the guest room closet along with multiple gun cases, it was almost time for her nurse to show up. But I figured I had time to listen. It was just one song, after all.
It had an odd melody, screechingly high notes tossed in with deep low notes like the musician couldn't figure out which pitch to use. But the lyrics were even weirder. They told a series of stories, one in each verse. About a mother drowning her daughter. A sister strangling her brother. A wife shooting a hole through her husband. Pretty violent content for back in the day.
A few seconds after the song ended, I heard the doorbell. The nurse. I abandoned the record player, exchanged greetings with her, and drove back to my apartment.
On the way home, the damn song was stuck in my head. I was surprised I remembered so many words, considering how different each verse was. Normally, whenever I found a new song I liked, I'd download it and play it on repeat until I memorized the lyrics. That usually took at least ten plays. My memory wasn't as bad as my grandmother's, but it wasn't exactly great for a woman my age, either.
When I got home, the song was still stuck in my head. Took a shower, stuck in my head. Went to bed, stuck in my head. It was so fucking irritating that I popped earbuds in to drown it out. But no matter what I listened to, all I heard was the Demoni song. Like it was actually playing. Not in my mind. In the air, aloud.
After five days of the earworm infiltrating my thoughts, from my coffee-filled mornings until my flannel pajama nights, I drove over to my grandmother's house. I usually reserved Saturdays for her, but I couldn't wait any longer. I tried everything to push that song from my brain. I even put on Call Me Maybe and Barbie Girl, trying to replace one earworm with another, but Demoni still played on a constant loop. Never-ending. I figured hearing it again might help, and I couldn't find the stupid thing on YouTube. So off to my grandmother's I went.
When I got there, she was more alert, sitting up and gumming the pudding the nurse stuck into her mouth. It was one of her good days, then. I could actually get her to communicate with me. I could tell her I loved her and she'd actually understand.
But first, I explained to the nurse why I was there. "There's this fricken… this song that I listened to on her record player last weekend. It's been stuck in my head, so I just wanted to hear it again. Thought maybe it would help."
I'd been signing while I spoke, because my grandmother got moody when she thought people were talking about her in front of her. She never wanted to be left out of the conversation.
When I turned to face her, she was shaking. Her mouth low. Her eyebrows high. Gurgling noises were coming from deep in her throat.
"Sorry. I might've worked her up," I murmured. "I'll be in the guest room for like five minutes and then I'll get out of here."
"No."
That wasn't the nurse's voice. It was her voice. My grandmother's. She was shaking her head. Trembling worse than before. "Get out," she said, sounding thick and raspy. "The music is bad."
The nurse tried to convince me that my grandmother didn't know what she was saying. That she was delusional. But she kept freaking out whenever I tried to walk past her, toward that guest room, so I kissed her on the head and retreated to my car.
When I got home, I tried typing the song into Google. Maybe there would be a link that lead to somewhere other than YouTube. But I found nothing. Nothing, except a page that had a bit of background on it. It wasn't Wikepedia, but it was one of those branches of it, like supernatural.wikia or aliens.wikia.
It said the song wasn't created by a big named band. It was created by a family that suffered from disaster after disaster. A mother drowning her daughter. A sister strangling her brother. A wife shooting a hole through her husband. The same scenarios that the song described.
A pair of cousins in the family who witnessed the killings wrote the lyrics and performed the music. They were spiritual, into some obscure religion that reached Scientology levels of weirdness. They thought, that by getting their extended family's horror into song form, the bad luck would somehow be transferred there. Locked in. That their luck would finally change. And, according to the shoddy webpage I was reading, it worked.
Instead of dealing with more death, the surviving family members started getting along. Less arguments. More turkey dinners. The cousins were even lucky enough to have their song released. For a while, it actually did well. But anyone that heard it would go mental. The song would get stuck in their heads and it would work like a torture device. After hearing it for long enough, (Weeks. Months. Years.) they'd claw at their heads. Stick needles in their ears. Some people even killed themselves.
My grandmother's hearing… Did she lose it on purpose? I remembered seeing pictures of her at the shooting range, gun in hand, and I could picture her going there every single day. Shooting the gun off, near her face, trying to burst her eardrums. Would it have even worked? The song was inside her head, after all. But it did sound like it was coming from an outside source, an unseen radio that always hovered behind me.
Of course, if all that was true, why didn't she just burn the record? Destroy it so no one else could listen to it? I found out after reading a little more. Apparently burning the record could release the spirits, giving the holder of it bad luck. She didn't want to have bad luck.
Neither did I, but I'd rather try burning the totem than finding a way to deafen myself or dealing with another second of the earworm. So I snuck over to her house. I had a spare key, so I slipped in as quietly as I could. She wouldn't hear me, but the overnight nurse might and I didn't want to scare her half to death.
It only took me two minutes to grab the record, and I went right back outside to destroy it. First, I snapped it. Into as many pieces as I could without slicing my fingers. Then I tossed those pieces in a bucket with a match and waited for them to melt.
I don't know if it was a placebo. If it was all in my head. But as the last pieces crinkled and crumpled, the song died along with it. It was extracted from my mind. Gone. Just like that.
I felt my body wilt, all of the stress slipping out of it. For the first time all week, I fell asleep as soon as I settled into my sheets, and I planned on sleeping until noon—but a phone call from the nurse woke me. Sometime in the middle of the night, my grandmother had passed in her sleep.
The bad luck had begun.