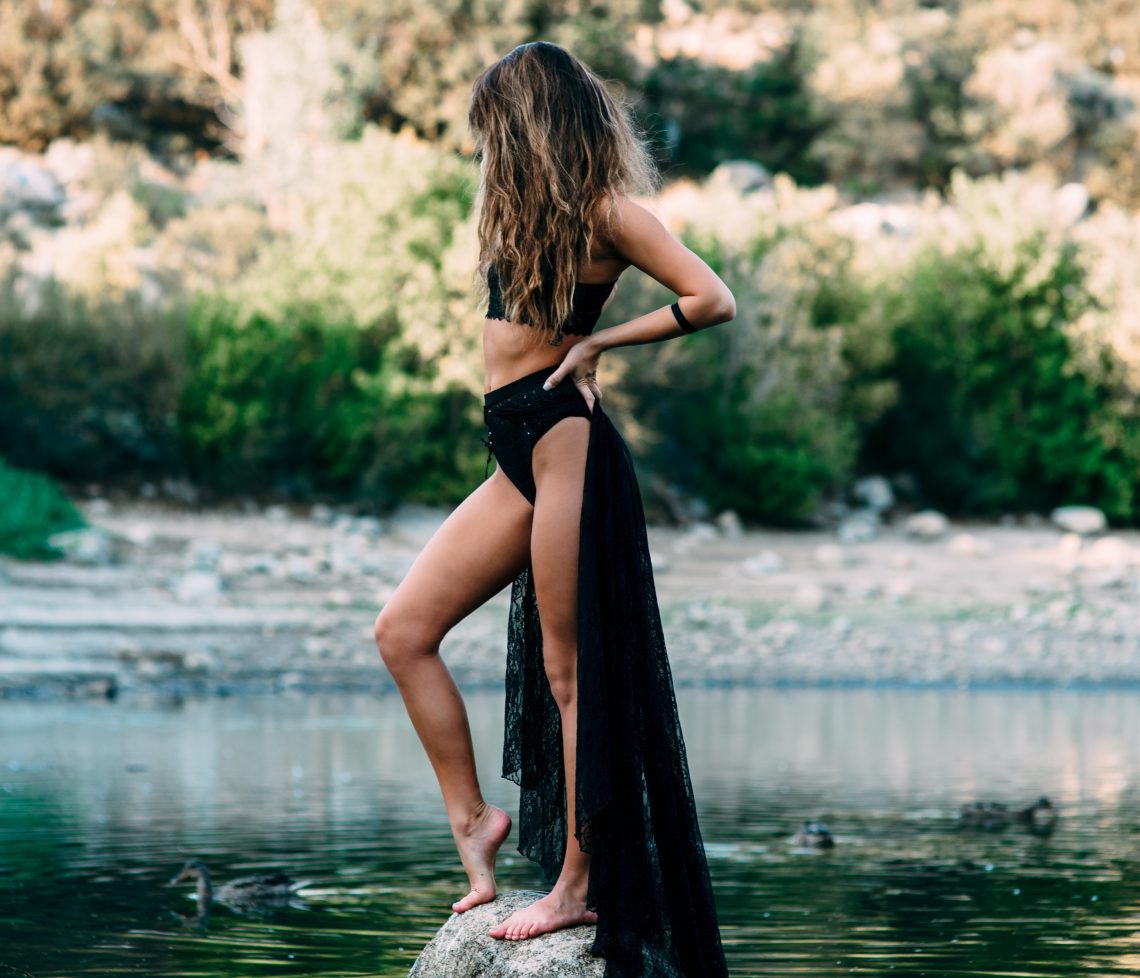 1. When he's on top of you thrusting, throw your left leg over his left shoulder and your right leg over his right shoulder. That way, he can grab your thighs and go to town.
2. You could also try placing both of your legs over only one of his shoulders, and crossing your ankles to keep them in place. It'll create a slightly different angle of penetration.
3. Squeeze your thighs against his head when you cum during oral. It'll put him in the mood to give you a second orgasm.
4. Have sex in the spooning position. That way, he can look down and see your flawless legs pressed up against his. They won't be obstructed at all, like they would be during cowgirl or missionary.
5. The next time you want oral, get off the bed and let him give it to you while you're standing. Then he can get on his knees and run his hands up and down your long legs while he licks.
6. Wear heels in the bedroom. It doesn't matter if you pair them with lingerie or go au naturel, because he'll think it's hot as all hell.
7. Or, instead of slipping into heels, walk into the bedroom while wearing sexy black stockings attached to a garter belt.
8. Buy a bondage kit that contains shackles for your ankles. That way, he can put your legs into any position that he wants.
9. Do a little strip tease for him. Instead of hopping on his lap to stick your cleavage or ass in his face, stay a few feet away from him so he gets a good view of your legs.
10. If you're the kinky type, you can even install a stripper pole in your room. That way, you can wrap your legs around it and give him a show.
11. Get on the bed and sit with your knees bent, but your thighs spread apart. Then wait for him to come inside and get a look at you. He'll think it's the sexiest thing he's ever seen.
12. Get him horny throughout the day by wearing high waisted shorts, fishnets, or thigh high socks in public. By the time you two get home, he'll be dying to rip everything off of you.
13. Rub some body butter across your legs, so that they're extra soft when he touches them. You should also buy the best shaving cream you can, so there's no stubble left over.
14. Speaking of shaving, you could ask him to shower with you. If he's as crazy about your legs as you think he is, he'll love seeing you lift them up and run your razor across the skin.
15. Take him to the gym with you. Let him watch you run on the treadmill or do leg extensions.
16. Have sex while leaning your upper half against the bed (or the kitchen counters). That way, he'll be able to stop and stare at your lower half.
17. Casually walk around in his tee-shirt and your underwear, so that your legs are exposed.