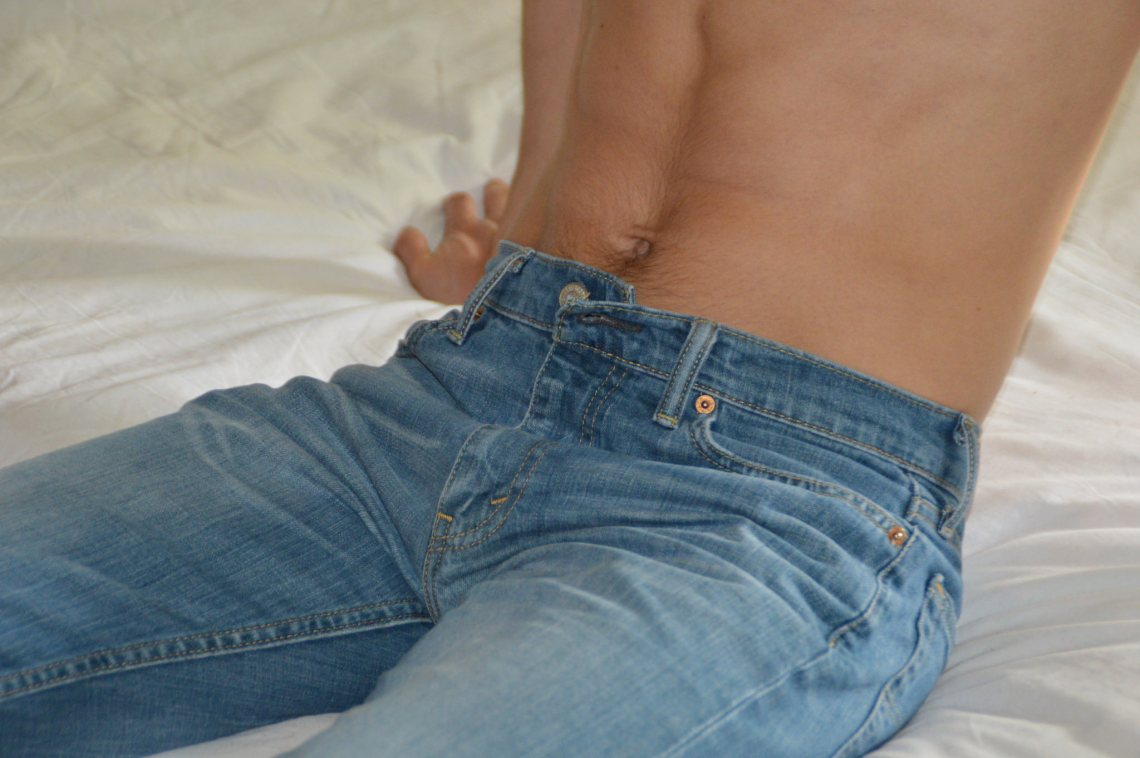 1. Before you go anywhere near his cock, make sure you get him nice and hard. French kiss him, grab his hair to deepen that kiss, and stroke his thighs–but wait to touch that sweet spot.
2. Once you can see the bulge in his jeans, it's time to start rubbing over the fabric. Lightly move your hand back and forth, just to tease him. It should make him even harder.
3. Now you can seductively remove his jeans. Make a show out of unzipping them and pulling them off. Think of it as a reverse strip tease.
4. If you want to use your body to your advantage, now would be a good time to remove a few items of clothing. Say something about how it's not fair for him to be naked when you're still fully clothed, and then take your top off so he can suck on your tits or run his thumbs across your nipples.
5. It's finally time to grab his cock. Just make sure that there's pre-cum dripping down his shaft. If there isn't any in sight, you can either kiss him until it pops out or reach for the lube. You don't want the handjob to hurt, so you have to make sure he's sufficiently wet.
6. Don't go hard and fast right from the get-go. Start out with light, slow strokes. When he gets closer to orgasm, then you can tighten your grasp and move at a quicker pace.
7. You could always start out by grabbing him with just your thumb and forefinger, moving up and down, and then gradually adding more fingers to increase the pressure.
8. Don't forget to twist your wrist as you move your hand. Simple "up and down" movements aren't going to cut it.
9. Don't forget to explore his body, either. Instead of focusing all of your energy on his dick, try touching his balls, kissing his neck, and licking his nipples. Use whatever moves you know he'll go crazy over.
10. Use a new toy every time. Try handcuffing him one day, trailing a feather across his shaft the next day, and running your vibrator over his balls the day after that. You never know what he'll cum hard from.
11. If you want to be extra sexy, you can try straddling him while giving him a handjob. That way, he'll be able to grab your waist and put your tits in his mouth. It'll give him he illusion that you're riding him. Just make sure you sit more toward his knees, so your hands actually have access to his cock.
12. If you don't think one hand is going to do the job, then you can always use two. Just make sure that they're moving in sync.
13. Even if you don't want his dick in your mouth, you should put his index finger in your mouth. Make sure you suck it in and out while running your tongue around the entire thing. Then it'll be easy for him to imagine that your lips are on his junk instead of your hands.
14. For the most part, your mouth won't be busy, so you should use it to talk dirty. Tell him how sexy he sounds when he moans and how wet you get whenever you feel his cock twitch. 
15. If you have your heart set on giving him a handjob, make sure he knows it's not leading to anything else. Otherwise, he'll assume that it's just foreplay, and he'll try to keep himself from orgasming so he can have sex with you. So make your intentions clear.
16. Friendly reminder: Handjobs aren't meant to be given when you're in bed together. They work best when you're casually watching TV, so he'll feel like he got a special little surprise. (Of course, if you want to make him cum faster, you could always turn off the TV and put on a porno.)
17. Even if you're not in the mood to lick and suck, you can still use your mouth to catch his cum when he's all finished. Seeing you swallow is the perfect way to end the occasion.