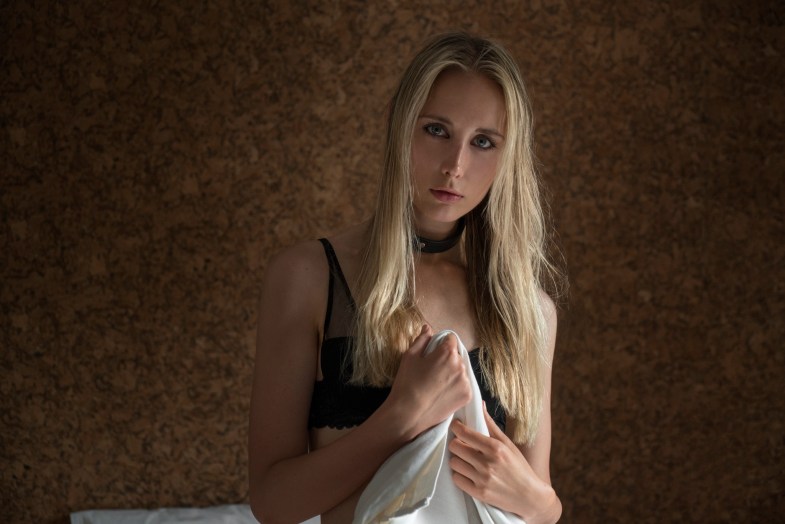 1. When you're resting your head on his lap, grab his hand and place it on your boob, so he can massage it.
2. When you're riding him, grab your tits and hold onto them while you bounce around.
3. When he's on top of you, grab his head and push it toward your chest, so he can wrap his mouth around your nipple.
4. Put whipped cream or melted chocolate on your nipples and then ask him to lick it off of you.
5. When you're overheated, grab an ice cube and run it across your chest.
6. When he's resting on the bed, get on all fours and crawl towards him, so he can see right down your shirt.
7. Step out of the shower with the towel tied around your waist, so your entire chest is exposed.
8. Buy transparent lingerie, so he can see your tits, even though you have clothes on.
9. When you ride him, position your boobs right over his face, so he can suck on them whenever he wants.
10. Claim that the room is too hot and proceed to take your top off in front of him.
11. Walk around in nothing but a bra and sweatpants. You'll be comfortable and he'll be horny.
12. Apply body lotion in front of him, or let him watch you soap up your boobs when you're in the shower.
13. Buy nipple tassels. Or, if you're extra adventurous, try nipple clamps.
14. When you send him nudes, drape your arm across your chest, so your nipples are covered, but the rest of your boobs are visible.
15. Walk around in a thin shirt without a bra on, so he can see your nipples through the fabric.
16. Take off your bra before he gets the chance to do it, so he doesn't waste precious time fumbling around with the clasp.
17. When you're working out together, do some jumping jacks or any other exercise that'll let him see your boobs bounce.
18. Rest facedown on his chest while you're both naked, so he can feel your nipples pressed against his skin.
19. Wear long, sparkly necklaces. They'll draw attention to your cleavage.
20. When you want to talk dirty, all you have to do is tell him that you want him to run his tongue along your nipples.
21. Wear heels, keep your back straight, and push your chest out. The right posture can make your tits look fantastic.
22. Bend forward in front of him when you're out in public, so he can see down your shirt.
23. Ask him to help you apply sunscreen to your chest, so you don't burn your soft skin.
24. Ask him to grab you something while you're taking a bath, so he can come in and see your chest peeking out from the water.
25. Take off your bathing suit top when you're in the backyard, so you can sunbathe without getting tan lines.
26. Buy a push-up bra that'll make your cleavage look extra sexy. Or at least measure yourself, so you can buy a bra that fits correctly.
27. Challenge him to remove that bra, just by using his teeth.
28. Ask him to try to make you orgasm, just by touching your breasts. Nipplegasms are a legit thing, you know.