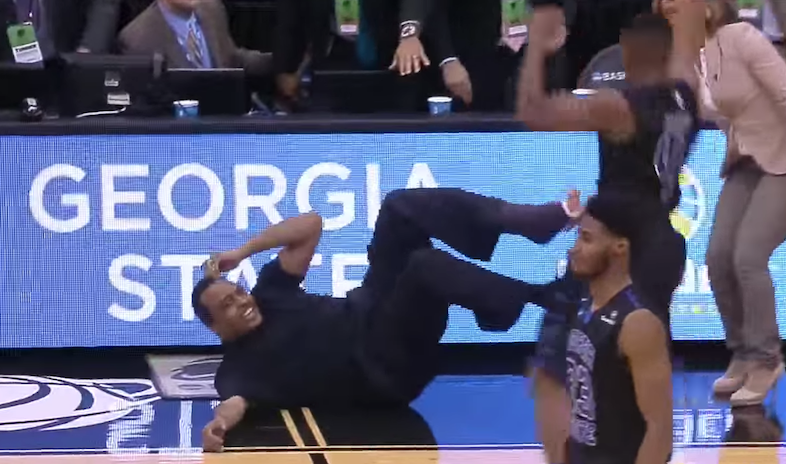 If you've seen a lot of Shaq, Christian Laettner, Dr. J, and Clyde Drexler on your TV recently (or you're really over that campaign), you're likely taking part in the fun of March Madness games. There's been some sweet blocks, stellar dunks, and coaches losing their minds over foul calls, but that's what we expect with this madness.
While everyone is focusing on the upsets that benefit (or hurt) our brackets, there are some shining stars who aren't suiting up for the big game – the fans. It was tough to choose the best fan moments we've seen in the Big Dance so far, but we narrowed it down to our 10 favorites.
10. The Arizona Fisherman – Rocking neon green shorts, a tropical T-shirt, and a USA fanny pack, this fishing fan was reeling in the win during the Sweet Sixteen game between the Arizona Wildcats and Xavier Musketeers. It took an Xavier lead in the second half to spark the Wildcat offense and this guy's imagination, but whatever he's doing must've helped the Wildcats catch a win over Xavier, sending them to the Elite Eight.
9. The Gonzaga Shimmy – What better way to celebrate a successful behind-the-back pass from Przaemek Karnowski to Domantas Sabonis than to have one of your teammates do a man shimmy?

8. The Duke Band Giddy Dance – College bands travel with the teams to the Big Dance and, after all the times they've played the school fight song, it's no wonder they become mega fans. This Duke Trombone player certainly deserves that title, especially with how thrilled he got when Duke's Quinn Cook high-fived him in the second half of the game against Gonzaga. Based on his reaction, it's safe to guess he's not going to wash that hand for a while. Maybe it'll keep the luck alive as Duke faces off against Wisconsin in the championship.
7. A Famous Wisconsin Athlete — After the Wisconsin Badgers bested the Arizona Wildcats to brink the Final Four, Green Bay quarterback Aaron Rodgers and his girlfriend, Olivia Munn, took part in the on-court celebrations. When he wouldn't grant any interviews, CBSsports reporter Dennis Dodd took to Twitter to complain. The social media debate continued, and Rodgers defended his choice to refuse interviews by Tweeting, "sometimes the answer is yes and sometimes it's no. I'm not there for u, I'm there to support my friends n UW." We're giving Rogers the points on this one for doing what he could to make the night about the college basketball players and not him.
6. The Butler Blues – Have you ever sports fan'd so hard you got sick? Butler mascot, Blue the dog, was so excited about his team making it to the top 32 after a win over Texas that he threw up right on the Madison Square Garden court.
5. The One Where Even The Announcer Knows – So, Ashley Judd just did what all Kentucky fans at home did on that play. The TV announcer even calls her the "number one Kentucky fan." She knows the camera will be on her and doesn't care – she's more wrapped up in her passion for UK. And, with the way they played this season, who can blame her?
4. When Coach Krzyzewski Leads the Cheer – We're happy to see the Blue Devils make our list a second time, especially as we're focusing on Coach K's celebration this time. Gonzaga gave Duke a run for its money, but with this great shot, Duke took the lead that lead to sent them to the Final Four.
3. She Shed Tears for Villanova – We've already qualified school band members as mega March Madness fans and this woman is another shining example as to why. Villanova piccolo player Roxanne Chalifoux made it to national TV when she shed tears after the Villanova season ender against NC State. "I hate seeing the team when they're sad, and I was sad because I'm leaving the band," Chalifoux said. "It was just a really emotional moment."
2. The Coach is on a Roll – a When there's only five seconds left in a close game, we're all on the edge of our seats. Georgia State's Coach Ron Hunter took this to a whole new level during the game against Baylor. He was sitting on a rolling stool on the sidelines because of an Achilles tendon injury he got celebrating the team's automatic bid into the NCAA tournament. When his son, R.J., made the winning 3-point shot, Coach Hunter slid off his stool and fell to the ground. That's some dedicated passion right there!
 [youtube https://www.youtube.com/watch?v=OmcOo-bGJp0%5D
1. The Celebratory Bagel – Miichigan State get the best of Louisville in OT when they were in the Elite Eight. Of course their fans celebrated, but it wasn't just with drinks or over the top parties. Sure, students burned a couch, but what's most interesting here is celebratory bagels (that's right, we said bagels) were thrown in the air during a student rush in the streets of Cedar Village. The hilariously named Bagel Riot of 2015 even prompted the MSU police to Tweet, "Guys, what's with the bagels?"