They say there's a greeting card for everything these days – and it seems to be Emily McDowell's personal mission to make that the case. At the young age of 24, McDowell was diagnosed with Stage III Hodgkin lymphoma – a disease that wreaked havoc on both her health and her personal relationships.
On her personal website, McDowell explains, "The most difficult part of my illness wasn't losing my hair, or being erroneously called "sir" by Starbucks baristas, or sickness from chemo. It was the loneliness and isolation I felt when many of my close friends and family members disappeared because they didn't know what to say, or said the absolute wrong thing without realizing it."
To combat this phenomenon, Emily took things into her own hands – and created a line of greeting cards that expressed exactly what she wished her loved ones could have. From bitterly sarcastic to expressively sweet, these cards capture the words that cancer patients truly want to hear as they fight for their health.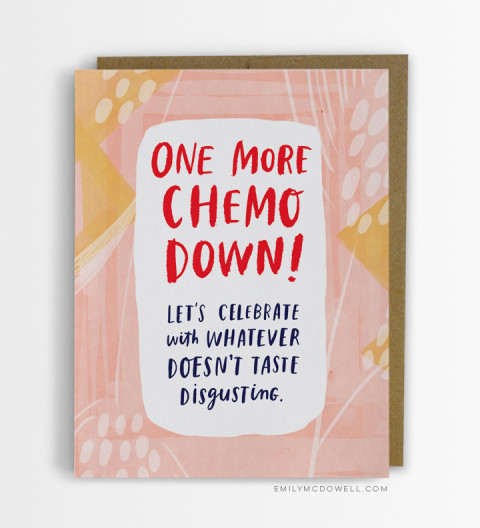 And some simply capture the sentiments we're too afraid to say:
In case you're looking for cards for other occasions, McDowell has the brutally-honest market covered when it comes to just about every occasion.
Even your awkward love life!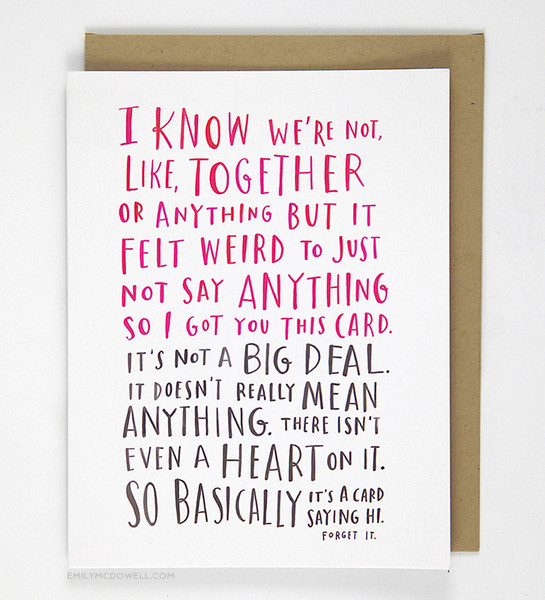 For more of Emily McDowell's creations, check out http://emilymcdowell.com/.