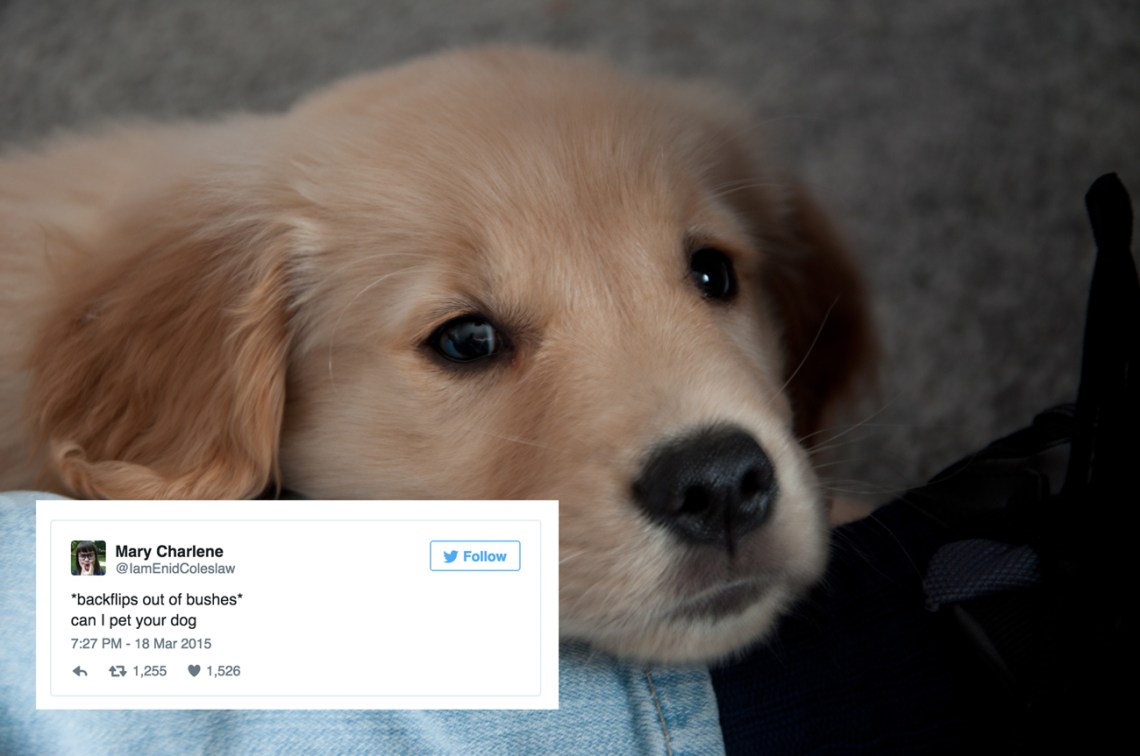 1.
*pets dog*
if ur always hapy are u ever truly hapy
*pets dog mor*
or is hapiness only somthing we see in u bc we kno sadness
*dog wags tail*

— new york times bestselling AUTHOR JONNY SUN (@jonnysun) May 3, 2015
2.
The reason dogs love humans so much is because they're trying to get to all the bones inside us! :-)

— Megan Amram (@meganamram) September 12, 2015
3.
https://twitter.com/wutangcher/status/640587148996026368
4.
what did we do to deserve dogs pic.twitter.com/NkjbanT9gu

— kiersten (@kierstennamber) September 10, 2015
5.
I only work out so I'm strong enough to hold every breed of dog like a baby.

— Mike Primavera (@primawesome) August 10, 2015
6.
Squirrel Hell and Dog Heaven are the same place

— Good Kyle (@KyleMcDowell86) August 7, 2015
7.
[dogs chatting in park]
So what does your human call you?
"Hoozagoodboy"
omg same

— dan mentos (@DanMentos) April 9, 2015
8.
*backflips out of bushes*
can I pet your dog

— Mary Charlene (@IamEnidColeslaw) March 18, 2015
9.
Most of being a dog owner is yelling WHAT DO YOU HAVE IN YOUR MOUTH

— shauna (@goldengateblond) May 31, 2015
10.
https://twitter.com/madeleinedoux/status/562278168388960256
11.
https://twitter.com/jlucbouchard/status/597446505688125440
12.
DOG COP: [walks past car]
[sees own reflection in window]
Sir you can't park here
[taps glass]
Don't copy me
[pulls gun]
HE'S GOT A GUN

— Joe West (@joejwest) February 12, 2015
13.
"God, I hope she likes me." – me preparing to meet a dog

— Josh Gondelman (@joshgondelman) June 1, 2015
14.
"Loving this concept." – God designing dogs

— not great, bob! (@hipstermermaid) January 21, 2015
15.
Sorry I wasn't listening when you were talking about your dog. I was busy looking in my phone for a picture of my superior dog.

— Mike Primavera (@primawesome) January 25, 2015
16.
I told your dog he was a bad boy while you were in the bathroom.

— Rob Delaney (@robdelaney) January 11, 2015