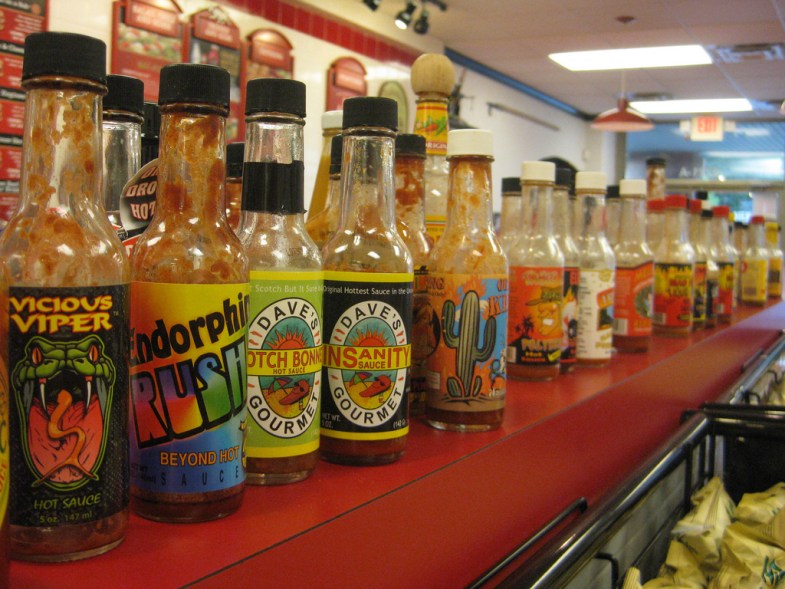 As is evident by the small shrine in my refrigerator door, I am a hot sauce enthusiast. I have been gifted those tiny travel size Tabasco bottles at least 15 times. My best friend once bought me a framed piece of Frank's Red Hot art. My mom enjoys telling friends of the time I was 5 years old in a restaurant and called the waiter over for "some Cholula, please."
So, it was no surprise when my boyfriend presented me with two tickets to the First Annual CA Hot Sauce Expo. I didn't even know such a thing existed! An entire expo dedicated to the most superior condiment of all time?! I was excited.
Since you probably wish you had been there (unless you don't like hot sauce, in which case why are you reading this? And also I hate you.), I will now give a breakdown of how the day went.
10:00 AM: Arrive at Hot Sauce Expo a.k.a. Mecca. Decline the free T-shirt. Receive extra beer tokens instead. Off to a good start.
10:01 AM: B-line to the booth with the shortest line. Eat hot sauce. Realize this was unwise on an empty stomach.
10:15 AM: Quickly ingest large hot dog and IPA.
10:25 AM: Lie in grass.
11:00 AM – 3:00 PM: Time to get down to business. I am methodical about hitting every single vendor. Let me break down the greatest hits for you:
Ole Ray's Apple Cinnamon BBQ Sauce ($7.00): Like Autumn, charcoal, and hot sauce had sex. Have since barbecued chicken with this and it was incredible.
Highly recommend.
Pure Evil Capsaicin Drops ($29.95): This is a tasteless, odorless, clear pepper extract. And it lives up to its name. First we sampled it in some ketchup (3 drops in one bottle), then in some ice cream (1 drop in a pint). I was impressed by neither. My boyfriend, being a male, decided he wanted to try a straight drop – no mixers. The video I have of him crying and wheezing for air is one of my most prized possessions.
Do not recommend.
Bravado Spice Co. Blueberry Ghost Pepper Sauce ($5.99): This was my favorite discovery, and I don't even like blueberries. This brand has some other delightful concoctions like Pineapple Habanero and Jalapeno Green Apple. Their classic Crimson is unstoppable. Who doesn't love a good, simple hot sauce? (Again if the answer is no, please leave.)
Highly recommend.
I won't pretend I didn't have a few of those wheezing, crying moments myself. I sat splayed in the grass like a drunken baboon scraping my tongue with my fingernails in hopes that it was, in fact, still there. This sounds unpleasant, but I actually believe I reached spiritual enlightenment at one point. The high from a truly hot pepper is akin to the sensation you get from meditating, or really strong mushrooms.