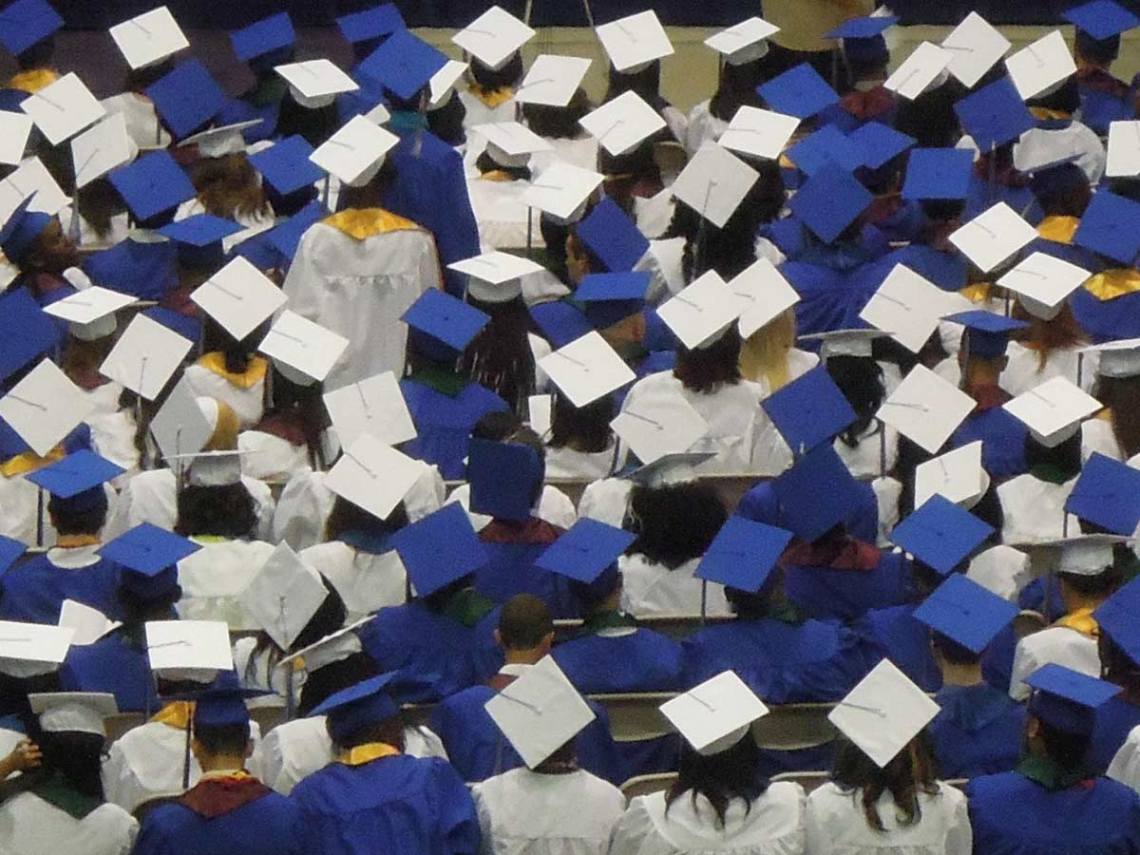 For the past year, you've been a high school senior. You recognize almost everyone in school, you have your best friends by your side, and teachers know you well. You've been a captain of sports teams, a recipient of awards and honors, a lead in the school musical. You have been at the top of your game all year, and now you are a graduate of the place that you grew up in. Following a summer of concerts, beach days, road trips, and time well spent with the friends you experienced your entire teenaged years with, you will be a new student, a freshman again.
A freshman. That's a foreign word to someone who has lived the past four years building a strong reputation, working hard in school, making friends, and creating incredible memories.
To my high school graduates—here is what no one told me about leaving home and starting my life again in a new city at a new school. Here is what I wish I had known.
1. Your first semester may not be amazing. This does not automatically mean you chose the wrong school.
Hope for your first semester to be enjoyable, but if it is not, know that many freshmen all over the country are not having the time of their lives, either (ignore what they post on Instagram). Nobody told me that I would have a difficult adjustment, and I wish someone had prepared me for that. Academically, this change in schools and environment was not a problem (thank you, very rigorous boarding school). Socially, mentally, and emotionally, though, my first semester on campus was hard.
I missed my high school friends, feeling comfortable in my surroundings, and being individually known and recognized on campus. It was challenging to make friends at a big city school. Nobody told me it would be hard to do that.
Please know, though, that it does get so much better. Think of freshman fall (or whenever your first semester on campus is) as an adjustment period, not a time when you're going to step foot into a new dorm and instantly have new best friends, people who genuinely care about you, supportive professors, and everything about your future figured out. College is a four-year journey, and all of these things will absolutely come with time. If you stay positive, hold onto the people who you really do connect with in the first few months, actively pursue clubs and campus events, and remind yourself why you like this school, your experience will improve…probably ten times over.
As I type this, I'm riding the bus back to Boston after a special weekend celebrating my sister's high school graduation in our hometown. I can see the Prudential Tower now, and I feel so excited to jump back into my life this week at Northeastern and in this amazing city. I did not used to feel this way, at all. That first semester after Greece, I thought I hated Northeastern. However, I gave it time, I pushed through, and a year later, I write this to you. I feel comfortable on campus, grateful to live in this city, and so happy with the friends I have made and the organizations I've become a part of.
2. You do not have to know what you want to do with your life.
I mean it. And if anyone asks you what you're going to do—at graduation parties, at celebratory dinners—you can tell them that you're going to take up space. And that you're going to have a damn good time doing it. It's not a lie.
The whole reason you're going to college is to educate yourself on what you want to do, what interests you, what you like, and what you dislike. I strongly believe that students do not need to have a perfectly laid plan before they even step foot on the institution's campus.
Keep your genuine interests at heart (make a list of them), and I promise, everything is going to fall into place. It takes time, so be patient and honest with yourself. I'm going to be in my third year in college, and I am still figuring out parts of my life every day. I'm completely OK with this, because I've had many interesting opportunities (and plenty of fun) thus far, so I know that quite a few things in the universe are going right.
3. That being said, college advertises that you "have so much time" to decide on your major.
Now, I can only speak for a big school, but it did not feel like that for me. It actually felt kind of short. That being said, if you're unsure of what you want to study or go into later on in life, strategically pick your freshman year and sophomore fall classes.
Select ones that genuinely intrigue you. Read the course descriptions and ask yourself, "Do I want to learn about this stuff? Does this interest me?" Take risks. If a class looks difficult but the content seems interesting, go for it. You may just find a professor you truly connect with or a concept that makes you want to major in that larger field of study.
4. It's OK to miss your high school, family, and friends.
To my recent Miss Porter's School graduates—I speak for other ancients as well as myself when I say that we still miss those special days in Farmington. I miss it differently now; I look back at my time at Porter's happily and nostalgically. During freshman year in Boston, though, I longingly wanted to go back to the supportive, small, and vibrant community that by the time I was an upperclassman was truly my family. And at the time, I would not let myself believe this. I wanted to not miss the past. I wanted to be appreciating the present, but it was hard to do so when I couldn't even look at the high school pictures hanging on my dorm room wall and not want to immediately return. So let yourself think about those memories, and talk to the friends and family members who helped you create the special times. After all, you did just spend the last eighteen years building strong bonds. Embrace them. Don't bury them.
5. Do your homework.
Double-check your tests before you hand them in, study hard, participate in class discussions, go to office hours, and ask every question that you think may be "stupid" but that you want answered. Professors notice the students who put in effort and go the extra mile. Your future self will thank you big time.
6. You don't need to like your roommate.
You just need to be able to live with them. If you like them, that's fantastic. I got lucky in my freshman year and had a roommate with whom I got along very well. If you aren't so fortunate, make it humorous, spend time in the common room to meet others on your floor, and know that you've got less than a year of living together ahead of you. In all seriousness, though, if it's truly horrendous and there's no way you'll be able to make it through, talk to someone. The Housing Department at your college is there to help you.
7. Joining a ton of different clubs won't immediately create a bunch of real, authentic friendships.
Instead, focus on sticking with the activist, musical, athletic, service, social, academic and/or career organizations that you truly connect with. You do not need to join a ton of different activities to make good friends. Deep, significant friendships will come from spending a lot of your time with the people in one or two organizations, not a bunch of different ones where the people don't overlap.
8. If it's 7:00 PM and you want to get dinner in the dining hall but you don't have someone to go with, there's a 100% chance that someone else is in the same exact situation.
So ask your roommate, or someone on your floor, or Facebook-message that person in your class who you sat next to and seems really nice. Maybe she can't go to dinner tonight but can another night. Maybe because of this, you'll become friends. I wouldn't be surprised—this has happened to me a few times now! And if you can't find anyone to eat dinner with, do not go to bed hungry. Nope. Go to the damn dining hall, use that meal plan, eat food, and enjoy it. Everyone wants "someone to go with," and I totally get that, but if you want to eat your meal and no one seems down, simply go. You may be surprised to know that others do this, too. (I know for sure it happens at Northeastern—back when I was on the meal plan, I saw people eating while studying or watching a YouTube video or texting all of the time. Human interaction can be more fun, but this is an option if you need it.)
Until you get to college, though, enjoy your summer as much as you can. I hope you have the most amazing time with friends, family, dogs, cats, swimming pools, beaches, sunscreen, barbecues, Fourth of July fireworks, and s'mores. Be proud of what you have achieved so far, and know that the most transformative chapter in your life is about to start.
The transition in the fall will not be easy, your campus will not immediately feel like home, you don't have to pretend to love everything about your new life on social media, and you may truly dislike your first semester in college, but my God, know that it is all worth it. I promise. Congratulations on your graduation—I'm excited for what the future has in store for you.
Xo,
Hannah